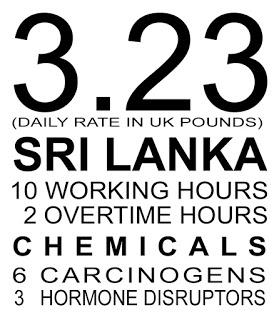 Golf Refugees are proposing a 'clothing data label'. (See picture – data supplied by Labour behind the label)
It could form part of the existing clothing label, usually stitched inside the side seam of garments.
This example is based upon daily rates and hours worked, however fashion brands could decide upon using weekly or monthly rates.
Data comprises of a daily rate converted to the local currency, in this case the garment was manufactured in Sri Lanka but sold in the UK.
The number of daily working and overtime hours for textile workers.
Plus a chemical contents list of the number of carcinogens and hormone disruptors used to make the garment.
As consumers please let us know your thoughts.
We are hoping to gain support for our 'clothing data label' and work with others to try and persuade fashion brands to use it.


‪#‎

clothingdatalabel‬

 

‪#‎

golfrefugees‬


ooooooooooooooooooooooooooooooooooooooooooooo