After what seemed to be a never ending few weeks of anticipation, the WildChildMedia team and myself finally attended Clothes Show Live / BINTM Live this Saturday, disappointingly the featured celebrity of the day, Peter Andre, was unable to grace us with his presence due to his brothers deteriorating health – news which we were all very sad to hear. However, regardless of the fact that none of my particular favorite celebrities were in attendance on Saturday, I did make up for it by proceeding to have a rather pricey shopping spree! All of which was done between interviewing, blogging, and watching the fantastic fashion shows whilst simultaneously instagramming away (I know, we women are a talented bunch of multi-taskers!) haha.
Below are a few snaps of everything I bought during my little shopping sessions at the event, I've tried to include links to all of the websites for each item that I bought, so that you can purchase them if they catch your eye too!
The Fashion Haul! Items from: MisseeeUK, Minimum Mouse, Elle UK, and Mr Shoes
I love Elle Magazine! When I saw that they were on offer in an Elle goodybag I couldn't resist! …In the goodybag I got two copies of the latest Elle UK magazines and some sample products which included; an eyeliner from the Jemma Kidd Make-up School, a moisturiser from St. Tropez and a Fiorelli arm band that I'm pretty sure I put in the bag as I was handed it whilst walking around the stalls.
  MisseeeUK is the unit from which I discovered this stunning statement necklace! …The stall had a fabulous range of clothing and accessories that were perfect for all you edgy girls out there! I would definitely recommend that you all check them out for some amazing one-off pieces at affordable prices.
These two pairs of Jeffrey Campbell inspired shoes were snapped up straight away as soon as I noticed them at  Mr Shoes , being a major lover all of things spiked and punk-esque I knew they'd be my new favorite pairs, flats for the the daytime and the look-a-like Lita Spikes for all of my after-hours antics. Although I hadn't planned on spending very much with Christmas around the corner, at a mere £70 for both pairs, I wasn't going to complain!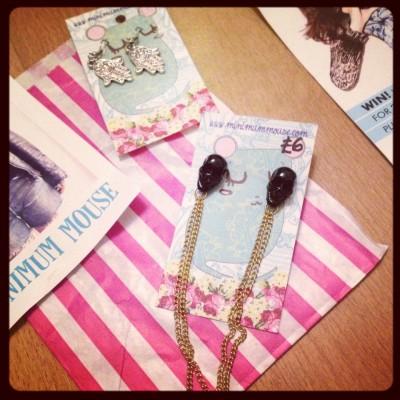 I noticed these little treasures at the Minimum Mouse unit within the last five minutes of the event, they were just what I wanted as I'd been  looking for some edgy collar tips for a while, and I have a great love for the protective qualities related to the Hamsa Hand! So, naturally these were right up my street! …My choice on these two items wasn't made so easily but with help from the extremely friendly pair that own Minimum Mouse, Marianne and James, I was able to finally make up my mind and finalise the sale – leaving as a very happy customer indeed!
…So there you have it, everything I came away with from Clothes Show Live 2012! I really hope you enjoyed reading this fashion haul post, if you did please feel free to leave me some feedback and tell me what you think of all my new goodies!

 x