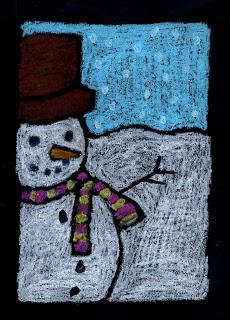 Drawing closeup and cropping out what is unnecessary can make just about any artwork more interesting. Many students tend to draw really small with lots of extra space. If you are trying for dynamic images for special uses like greeting cards, this approach will make a big difference.

1. Students may use a ruler to trace a border around the edge of a sheet of black paper.
2. An old CD works great as a template for the bottom circle. They should place it so that only 2/3 or so is on the paper and trace. A smaller circle is drawn centered above.  Lastly, add the face, hat, scarf, arms and buttons and horizon line.
3. A black pastel is used to trace the all the pencil lines, pressing hard so that the line was easily visible. All the shapes are filled in with pastels, taking care to color around the black lines.