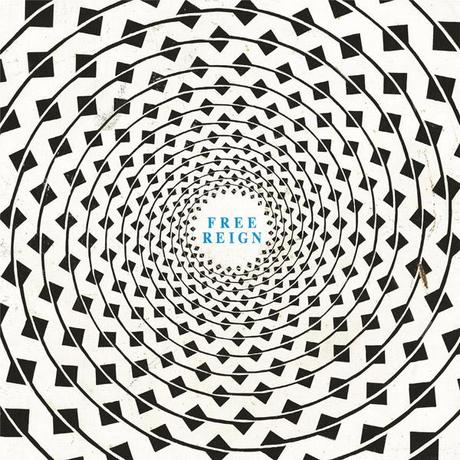 There's some thing celebratory in the air of Clinic's new album Free Reign. Actually, I think it might just be – air. The whole album shimmies in front of you, like waves of heat coming off of blacktop. There's plenty of backbone to the record – the subtly insistent rhythm section plods, head down, in front of you the whole album through – but melodies and harmonies are less straightforward, swooshing around the stereo field before filtering themselves into oblivion. Clinic is known for their use of synthesizers; here the ubiquity sharpens into a fundamental part of their identity.
The band draws heavily on the psychedelia of Hendrix, the Doors, and White-Album-era Beatles, although their songs feel much less centered, leaning at times into the almost-random universe of a jam. Tunes aren't so much constructed as they simply are; then eventually they end, having only really been an idea to begin with anyway. In the end they're just vehicles for the meditatively electric feeling that pulses through the whole album; so when vocalist Ade Blackburn whispers on "Seamless Boogie," "You're beautiful / you're beautiful / you're beautiful / your beauty…" you know you're supposed to sort of tilt your head back, close your eyes, and surrender to the vibe, maaaaaan. As if this wasn't hint enough, the next track is a washed-out, windchimes-reverb-and-wah-wah clarinet ballad called "Cosmic Radiation." Tuuuuubular.
In lesser bands this approach would be tiresome or bland, but Clinic seems genuinely committed to the chill. The whole album is so unbelievably repetitive you are all but forced to zone out and start navel-gazing, a phenomenon that is remarkably pleasant when compared to all the hype-y buzz-band nonsense currently in vogue. Like a good massage, you don't need to pay attention to Free Reign. Let it wash over you and enjoy it.
Check out more of Arson Welles' (aka Max Suechting's) writing at CASE MAGAZINE.
Bars: 3.5 /5

Clinic – Cosmic Radiation
04 – Cosmic Radiation
Clinic – Seamless Boogie Woogie, BBC2 10pm (rpt)
03 – Seamless Boogie Woogie, BBC2 10pm (rpt)
Clinic – For the season
06 – For the season