You may have noticed the Vibram FiveFingers already as those weird looking kicks sold at REI or the shoes being praised by running, hiking, cross-training, and even boating aficionados alike. If you're a climber, you're probably well aware of Vibram already. A number of climbing shoe companies use Vibram rubber, including La Sportiva, Scarpa, and Tenaya. In fact, many of the best climbing shoes available use Vibram rubber, so I was naturally drawn to the FiveFingers. They look interesting enough, right? If they're getting such rave reviews in so many sports, why haven't I seen many people climbing in Vibram FiveFingers? Of course, they weren't designed for climbing specifically, but I thought it'd be well worth it to conduct a little experiment to see for myself. If Vu Nguyen and Charles Albert can send barefoot, why can't I in shoes that fit like second skin?
Climbing in Vibram FiveFingers – Full Review
Now, it's important to note that a number of errors were made prior to purchasing the right pair of FiveFingers. First off, I sized my first pair too large. Ordering online, I didn't follow Vibram's sizing guide and just went with my street shoe size. Turns out they're sized a bit differently than 'normie' shoes. I also bought the TrekSport, which have small lugs on the outsole and are built more for hiking. I'm not trying to get on Half-Dome though, so I searched for another model that would better suit my needs.
Fast-forward a bit and I decided to go with the FiveFingers KSO because of its smooth outsole, which resemble climbing shoes the most. I also followed instructions for the first time in my life, and used Vibram's sizing guide to find my correct size. Okay I lied, I didn't follow directions. I went half a size down from their sizing guide in order to get a really tight fit because I had this V8 project I've been eyeing. I'm a street size US9/EU42, was supposed to get their 40, but decided to go with the 39s. I'm bad.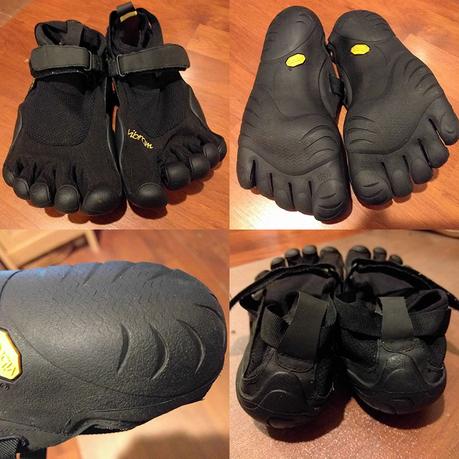 With the right size and a model that looks like it'd perform well on rock, I decided to take them for a spin. I climbed both outdoors and indoors to see how they'd fare. I spent a weekend in Red Rocks bouldering and a day or two at the local gym with them. Suffice to say, things got a little weird. Like, five finger weird.

Mistakes Were Made



With a handful of climbing sessions in these, here are a few things I learned:
I have self-esteem issues
The rubber used for the FiveFingers is not the same as the rubber used for climbing shoes
It's not easy to slip on these shoes and feel confident hitting the rocks. At least for me it wasn't. I got a good number of stares at the gym like I didn't know what I was doing. My friends also thought it was weird to warm up in them at Red Rock, but I assured them it was only an experiment. I'm sure they think less of me now.
But with my pride stuffed in foot-gloves, I was nevertheless adamant about finding out how they performed. I climbed a number of boulders outdoors and indoors with these, with fairly mixed results.
However, what was noticeable right off the bat was that the rubber on the FiveFingers is not the same as the rubber used for climbing shoes (of which I own both Scarpas and La Sportivas). Using the scientific method of poking both the FiveFingers and climbing shoes with my fingernails, they felt eerily similar. My nails sank into both pretty easily, which according to my calculations, should have meant they would climb sort of the same.
That wasn't the case, however. On both rock and plastic, the FiveFingers were a lot of slicker than I thought they'd be and didn't stick to anything very well. The majority of the time, I had to toe in real hard to stay on (more in edging section). There were a number of times where I lost my footing when trying to contact the rock, leaving me scrambling to recover. It wasn't pretty to say the least.
The Results
Sensitivity -1/10
How do you draw the line between sensitive and too sensitive? In any case, the Vibram FiveFinger KSOs were SO sensitive that they actually hurt when I climbed. The rubber is not much thinner than the rubber on climbing shoes, but putting weight on my foot would create pressure points that were not comfortable whatsoever. Tears were shed.
Outside: Climbing outside is a lot different than climbing at the gym. Footholds are more nuanced and rock is a lot sharper. Granted, you do feel everything but in actuality you don't want to feel everything. When a rock is digging into your soul, it makes it really hard to concentrate on climbing. My best approach: tread lightly and avoid rocks shaped like teeth.
Inside: Even climbing on plastic holds caused some discomfort, which is odd because most footholds in gyms are larger than life. I'm guessing it has to do with the flexible nature of the shoes, which are very malleable and conforms to almost any surface. So, either FiveFingers really aren't made for climbing or I'm just a big baby. It's probably both.

Edging 3/10
Climbing shoes are built primarily to focus power on the big toe. This is what allows you to stand on tiny edges with ease. However, you might have noticed that the FiveFingers don't focus power on any one toe in particular. In fact, it's a free for all.
Outside: It wasn't the easiest to edge outdoors, but it was a bit easier than edging on plastic. If I could get all five toes on an edge, which is easier to find outdoors, then it would mostly be fine. Just don't edge on anything too thin or you might split a toenail on your way down.

Inside: Terrible. If it wasn't a flat edge, I'd have to toe in really hard in order to stay upright. For smaller edges, I would also focus on only getting my big toe and second toe on, the other three were too weak for that noise. When doing this, however, there was always the possibility that my toes would slide out on either side.


Good / Good / Not Good
Comfort 11/10
Now, they might be more sensitive than your fingers after a hard crimping sesh, but the FiveFingers are incredibly comfortable. In fact, they are the most comfortable shoes I've ever worn for climbing. And that actually makes it a bad thing. Because everyone knows that if climbing shoes don't hurt, they're not good. But if companies found a way to make climbing shoes this comfortable, my god, they should also sell us pacifiers and diapers and we'd be set for life.
Smearing 3/10
There are two definitions for smearing. There's the smearing you're probably expecting where you rub your shoe into slab to create friction and then there's the smearing where you're spreading peanut butter on bread. For the FiveFingers, smearing was a lot more like the latter except it was a lot less effective than peanut butter on bread.
Outside: There is no way I'd trust my feet for real climbing if I were to smear outside in these. I did test it out though, in a safe, test-y environment where both of my hands were on jugs. The results? There is no way I'd trust my feet for real climbing if I were to smear outside in these. They just don't dig into rock as well as climbing shoes do. Granted, I did test them out at Red Rock which is sandstone, with the consensus being that it's really smooth rock. Maybe for grittier types of rock, smearing would actually perform better.

Inside:  It was a little easier to smear on bigger volumes climbing indoors than out, as long as it had a fairly gritty texture. I'd imagine it'd be super easy to smear on Walltopia walls though, which are essentially sandpaper. Heck, I could smear in skate shoes on those walls though, so it wouldn't count for much.

Hooking 5/10
Surprisingly enough, heel hooks worked pretty well. For most FiveFinger models, there's a nice swath of rubber covering the heel which is more than enough to place pressure on. Toe hooks, on the other hand, I'd rather not. You're basically relying on your toenails to keep you up.
Outside: I didn't have the opportunity to use heel or toe hooks outdoors. Code for: I didn't want to try heel or toe hooks outdoors.

Inside: Heel hooks worked quite well and were pain-free for the most part. Achilles could have used these. If you don't have to put tons of pressure on it, you'll make it out okay. But if you were to press on it hard, there's the possibility that it'll slip off. Toe hooks suck since there's no rubber and just fabric on very top of the toes, which means, your toes feel everything. Might as well do them barefoot.


Good / Good / Not Good
Pockets 4.5/10
Usually, pockets are reserved for individual fingers to fit in. In one of the smartest moves in climbing shoe history, Vibram created the FiveFingers, which allows individual toes to fit into pockets. That's what they were aiming for with these, right? Anyway, good going on that one, Vibram, you just have to get all of the other parts of the shoe right. Pockets are still not amazing though since the rubber doesn't create friction that well. But, I could see improvement in this area in future iterations, if Vibram were to make climbing specific FiveFingers. I highly doubt it though. The last thing Vibram would want is to have to market to full-grown monkeys.
Value 2/10
FiveFingers: $90. Barefoot: free. To be honest, I'm pretty sure climbing barefoot would be better than climbing in FiveFingers, or at least it'd be very similar. The only areas where FiveFingers perform okay-ish are heel hooks and pockets. For everything else, they are pretty mediocre. Plus, you'll get ridiculed by your friends, which will cost even more in long-term therapy sessions and alcohol. If you're going to buy these shoes solely for climbing, I highly advise against it. Even my Evolv sandals climb better than these, and they only cost me $20.
Final Score: NOT WORTH IT
Using FiveFingers As Approach Shoes
Although FiveFingers really aren't good for climbing at all, I do see some utility in them as approach shoes. Especially if you look into the models made specifically for outdoor use, which have small lugs on the outsole that can provide traction on a variety of terrain. Not only are they insanely lightweight, but they are also incredibly comfortable and breathe easy too. Additionally, having that barefoot feel can definitely make for an enjoyable ride outside whether you're scrambling or talus-hopping. However, my only advice is to try real hard not to stub your toes!
Models made for the outdoors include the:
TrekSport
V-Trail
Trek Ascent
Trek Ascent Insulated
CVT-Wool