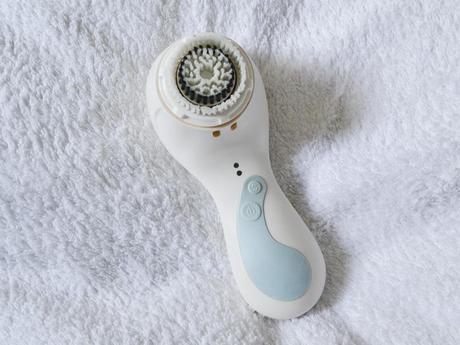 I've used the Clarisonic for a good few years now and I count it as one of the most important products for helping me to get clearer skin. The Clarisonic has been out for a while, but I thought I'd put in my two cents, because I feel like it really has made a difference to my skin.
How does it work?
The Clarisonic basically works like a massive electric toothbrush for your face (but a lot more gentle). It uses a sonic frequency of 300+ movements per second, which has a gentle micro-massaging effect that gives the skin a deep clean. The flexing action of the brushes loosens dirt and oil, so it can get deeper into your pores than a manual cleanse.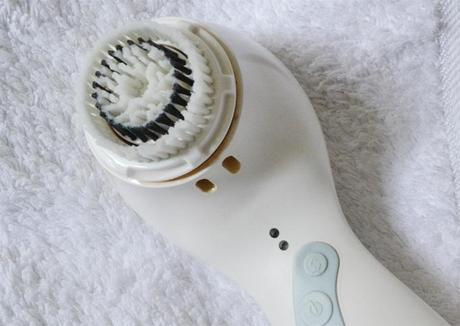 Using the ClarisonicI normally use the Clarisonic once a day. It's really easy to use; you just wet your skin and the brush head with warm water. I like to apply cleanser to both my face and the brush head and lather it up a bit.Then turn it on and gently move the brush around my face using a small circular motion. The only thing you need to remember is not to press too hard, because (1) it will hurt! And (2) it actually stops the brush from moving properly, thus reducing its effectiveness. It's also completely waterproof, which is useful because you can use it in the shower or bath, so it's easy to use on your neck and décolletage, as well.The Clarisonic can be used with any cleanser and Clarisonic do their own line, but I prefer to use my own. At the moment I'm using it with Bioderma Sebium Gel Moussant, which I love. Personally, I find the Clarisonic works better with this type of foaming cleanser (I've also used it with Dermalogica Special Cleansing Gel and Rodial Skin Bleach Cleanser), than a cleansing balm like Eve Lom, but it all comes down to personal preference.My verdictFor me, step one for clear skin is proper cleansing and hygiene (I wrote a post alllll about this, here), and for me, the Clarisonic just gets the job done.It leaves my skin feeling properly clean, but not dry or tight. It's also very effective for removing make up. As I said, I normally only use it once a day, and I always use it when I've had make up on. I double cleanse when I'm removing make up. First, I use my cleanser, to remove the majority of the make up, and then cleanse again with the Clarisonic to make sure my face is thoroughly clean. It makes such a difference. No matter how well you think you've cleansed manually, there is always some make up left behind. The Clarisonic does a much deeper cleanse than I have managed before.Another thing the Clarisonic has really helped with, is fading my scars from previous breakouts. When I had particularly bad scarring I used it with the Rodial Skin Bleach Cleanser, and I think this helped to fade the scars more quickly. It still wasn't an overnight solution (is there one when it comes to scarring?), but it moved the process along. I have combination skin, with an oily/congested t-zone and drier cheeks, and I'm prone to the odd breakout. Since I have been using my Clarisonic, I have noticed significant improvements in my skin. I have seen a reduction in blackheads and congestion on my forehead. I also find that serums and moisturisers are more effective and more deeply penetrating after I have used the Clarisonic to cleanse. I notice the difference particularly when I haven't used it for a while, e.g. when I've been away and my pores are becoming more noticable.One Warning (from experience!)The Clarisonic Plus has three speed settings. I use it on low most of the time, maximum normal, NEVER high. Once I used it on high and it made my skin really dry and aggravated, like you might get if you have over-exfoliated. So I'm always careful I don't put it on too high a setting by accident! It shouldn't be uncomfortable at all when cleansing.Which model to buy?I have the Clarisonic Plus, but my sister has the Mia so I have tried both (using my own brush heads). There are also the Classic and Mia 2 models. In terms of aesthetics, the Clarisonic Plus/Classic both look the same and they are bigger than the Mia/Mia 2. When I bought mine, the Mia had not actually been released (that's how long I've had it!), so I had less of a choice.In terms of functionality, the main difference between the models is the number of speeds.The Plus has three speed settings (low, normal and high), and the option for a body brush, whereas the Classic and Mia 2 have only 2 speed settings (low and normal). The original Mia has no variable speed setting at all, and runs at normal speed. I never use the body brush or and almost never adjust the speed settings, so I don't actually need these extras. And I actually prefer the smaller Mia. If I had the choice now, or if mine breaks, I would go for the Mia 2. I say Mia 2 and over the Mia because I like to have it on the "low" speed setting, and the Mia doesn't have this option. If you are thinking about which option to go for and you're worried about cost, I would say get the Mia or Mia 2. I don't feel that you're missing out on ANYTHING compared to the other models, and there is quite a significant difference in prices.Brush Heads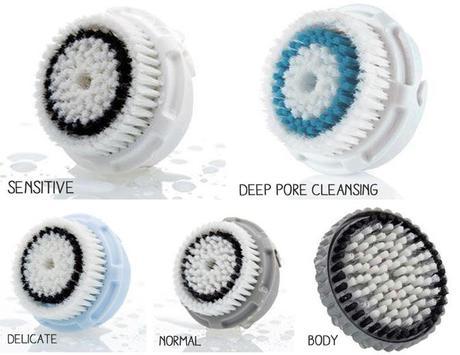 The Clarisonic comes with a sensitive brush head as standard.I don't have sensitive skin, but I don't feel I need anything stronger. I actually like the deep pore cleansing brush head even better though. I find it (surprisingly) more gentle than the sensitive, and I see even more noticeable improvements to my skin too. There are also brush heads for delicate and normal skin, as well as one for the body that only fits on the Clarisonic Plus (and Pro model).
Final WordsThis is a great product for helping to keep skin clear, but be careful not to use it on to high a setting, because it can become too abrasive. As I said, I'd go for one of the cheaper models. I don't think the more expensive ones add anything really.
You can browse all the available models, here.