Hello lovelies,
Today I am going to review the Clean & Clear Oil Free Moisturiser which I have been trying for a while now. This is my first time ever using a product from Clear & Clear -strange isn't it? Somehow I never reached out for this brand strangely, although the face wash is now next on my wish list. Moisturiser is an essential part of any skin care routine - yes you heard that right!! Even those with oily skin do need a moisturizer which is oil free and yet hydrating. This is when this product shall come to your rescue. I shall be talking about my experience of using this moisturizer. Read on to know more....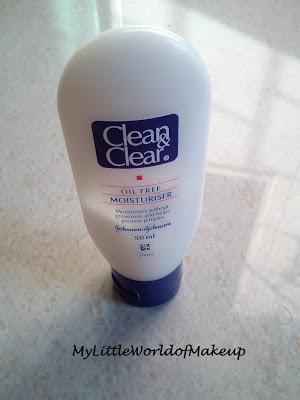 Ingredients:
Water, Propylene Glycol, C12 - C15 Alkyl Benzoate, Cyclopentasiloxane, Cetyl Alcohol, Stearyl Alcohol, Stearic Acid, Propylene Glycol Isostearate, Glyceryl Stearate, Salicyclic Acid, PEG-100 Stearate, Sodium Hydroxide, Dimethicone, Cyclohexasiloxane, Sodium Isostearoyl Lactylate, Allantoin, Carbomer, Acrylates C10 - C30 Alkyl Acrylate Cross polymer, Disodium EDTA, Fragrance, Phenoxyethanol, Methyl Paraben Propyl Paraben, Ethyl Paraben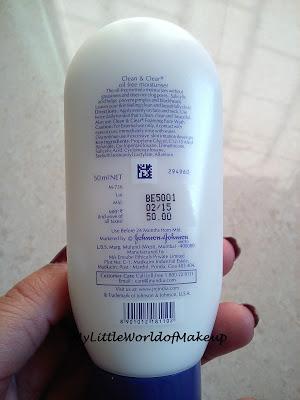 About the product:
CLEAN & CLEAR® OIL FREE MOISTURISER has an oil-free formula that moisturises without greasiness, and does not clog pores. The salicylic acid in it helps prevent pimples and keep your skin looking clean and clear!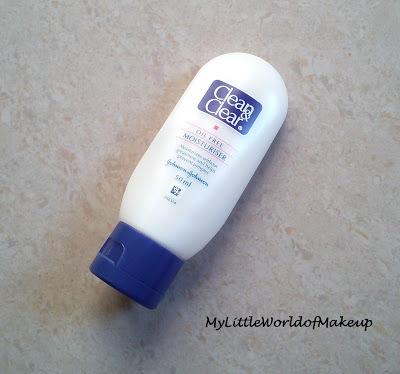 Packaging:
The moisturiser comes in a plastic bottle which is white and purple themed. All the information is printed at the back of the bottle. It has a flip cap which makes life easy and dispenses the appropriate amount for usage. The bottle can stand upright which I like and makes it easy to store it on your vanity table for regular use. It is travel friendly as the bottle is not too big.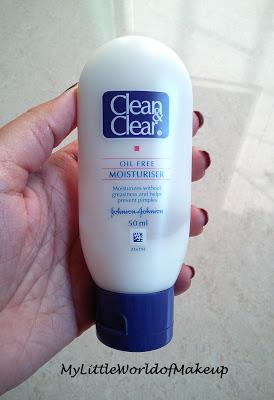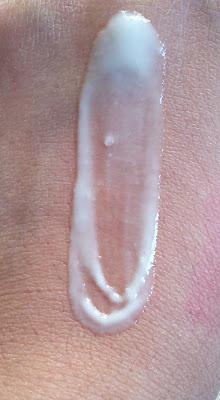 During my teenage years we did not have so many options in skin care unlike now. I remember back then Clean & Clear was the only brand I had heard of as a teenager with acne prone oily skin. The moisturiser is white in color and it smells fruity and floral - nothing over the top. A pea sized amount is appropriate for my oily to combination skin. I use it on my face and neck. It gets absorbed into the skin quickly and moisturizes and hydrates my skin. All my life I always thought that moisturiser and creams are only for those with dry skin until I started reading blogs online and became a blogger myself. For 50 bucks this is the most inexpensive moisturiser available for oily skin beauties. It contains  salicylic acid which prevents the occurence of pimples and will give best results when used along with their Clean & Clear Foaming Face Wash. Overall it is must try for oily skin girls as it is budget friendly and also does a good job of keeping the skin moisturized and hydrated. 
The Good:
Easily available
Inexpensive
Smells nice
Moisturizes & hydrates the skin
Contains salicylic acid  which prevents pimples
Does not make the skin greasy
Makes skin soft & supple
Travel and storage friendly bottle
The not so Good:
Contains parabens
No SPF
Rating: 4.5/5
Clean & Clear Oil Free Moisturiser is a oil free moisturiser which moisturises the skin without making it feel greasy. It is inexpensive and works well. A must try and a must have for oily skin girls. Highly recommend! ☺
I hope this post was informative as well as useful to all those reading. Kindly comment below with your inputs. Have you tried Clean & Clear Oil Free Moisturiser yet?
Until next time.. Take care xoxo