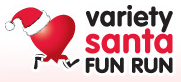 It's just 38 68 days until Christmas.
Thank you Rachel Callus for pointing out my killer math fail...38 or 68, it's close enough, yes?
Shut up OMG I know already, right?
I love Christmas.  The giving, the receiving, the wine, the food.
It's the ultimate feel-good time of year.
There is a way to make it an even more feel-good time of year, while also working off some of the seasonal indulgence in advance.
Interested?
Confused?
A little bit of both?
Variety the Children's Charity is holding their annual Santa Fun Run on Sunday 25th November.
It's a 5km run, unless you're like me and it's more of a 5km puffed walk / shuffle with the occasional tripping over my own feet.
Be a Clause for a Cause
Variety Australia provides $1 million financial assistance every single month to sick, disadvantaged and special needs children.
So don your red suit, your red hat, maybe a set of bells so that unco-ordinated and easily distracted people like yours truly will know when you're coming up behind my slow moving self.
Get walking, jogging, running, moon walking, Gangnam styling - however you choose to do it.
2012 Variety Santa Fun Run
Sunday 25th November
The Esplanade, Fremantle
8:30am - 11:30am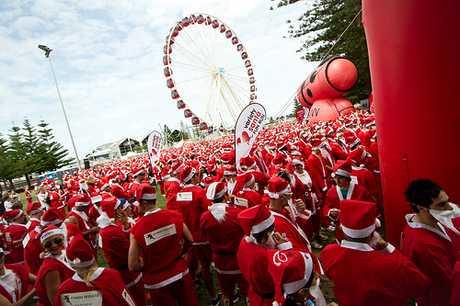 Image credit
What do you call a group of Santa's?
Santa Collective?
Scheme of Santa's?
Santii?
Full details on how you can kick off the festive season with some good will here