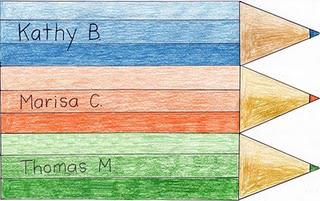 This is just a simple way to make a name label for a student, and could be used many different ways. I find that students tend to use their crayons and colored pencils most often with just one value. Most are just not in the habit of shading with them. These pencils are all made with just one color, using more pressure to make the darker values.

1. I cut tabloid paper into 3 equal sections, roughly 3.5" x 17", one would be given to each student. I drew a vertical line 4" in from the right side for the end of the pencil. A triangle is drawn inside that to make the point of the pencil. Three equally spaced lines are drawn across the length of the pencil. Names are written neatly inside the middle section, and all the lines are traced with a thin black marker.
2. The students are to choose one crayon or colored pencil, and color with the lightest pressure on the top panel, medium on the middle, and heavy on the bottom. The wood can also be shaded with pressure to match the rest. Cut out to make a fun display or leave in panels to label something.