Recipe Number One Hundred & One:  Page 134.
The word Christmas is enough to send shivers of dread down some spines. Not me, I love it! I rarely sleep a wink the night before. I still feel the same as when I was a child when I used to lie in bed listening out for the jingle of Rudolph's sleigh!
I have made the same Christmas cake every year for as long as I can remember. I have never deviated from the recipe. It's a recipe torn from a magazine and is by now very tatty and suspiciously sticky! Every year I lose it and then, to great celebration, I unearth it from the depths of a drawer or pile of recipe books! Although using a Mary Berry Christmas cake recipe does of course fill me with a sense of confidence, I have to admit that I am a little nervous of the outcome. I suppose I must be a creature of habit; it will be odd having something different this year.
Even though Mary says to start making the cake the day before you wish to bake it, I decided to do it all in one day. This has nothing to do with not reading the recipe through in advance of course! The reason for making it ahead of time is so that you can soak the fruit in brandy overnight. Thankfully, I started early enough to allow for a decent soaking. I thought seven hours should do it and I'd bake the cake in the evening before going to bed.
I sliced some cherries into quarters before rinsing off their delicious sweet syrup; such a waste! I patted the cherries dry with some kitchen towel. Apparently it is important for them to be dried thoroughly. The next fruit to deal with were the dried apricots. Although I really like fresh juicy apricots, I really don't like eating the dried version. The chewy texture and almost hairy skin make my skin crawl! I can't say I was tempted to have a nibble as I snipped them into pieces with scissors! I added raisins and sultanas in equal quantities. I didn't need anywhere near as much as I'd imagined. The last ingredient to be added was candied peel, again not very tasty to eat as it is, but delicious cooked in a fruit cake. I had almost a full bottle of brandy left over from last Christmas, so that saved me a few pennies – it is quite expensive. As I added a couple of tablespoons of brandy to the bowl of fruit, I came over all Christmassy and started singing Christmas Carols; maybe the waft of alcohol was to blame! I left the fruit to soak in its boozy bath while I kept the little man from helping himself to the contents of all the drawers and cupboards. Before I had time to catch my breath it was time to make the cake – how exciting!
I thought it would be wise to make use of my largest mixing bowl. There are a lot of ingredients in this cake; I didn't want it to spill over the edges. The flour was first to be added to the bowl, followed by a small amount of both ground nutmeg and mixed spice, which smelt wonderful. I had remembered to leave out the butter so it was appropriately soft on its entrance to the bowl! Dark muscovado sugar was called for. This made me hopeful that it would be a dark, rich fruit cake; I like them as rich as possible! Next I needed to add four eggs, followed by a disappointingly small quantity of black treacle. I quickly chopped up some almonds and then moved onto grating the rind from a lemon and an orange. I looked forward to eating the orange afterwards, but thought I'd pass on the lemon! I whisked the ingredients together. I wondered why, after two minutes of whisking, it still had lumps. I used a teaspoon to inspect the mixture and found that I had completely forgotten about the chopped almonds! My excuse for my being so thick is that my usual recipe doesn't contain any nuts; it doesn't take much to confuse me! Feeling a little dazed, I folded in the brandy soaked fruit. I caught a whiff of the fumes, COR it smelt good!!! The combined mixture was a rather light brown and nowhere near as dark as I had hoped it would be. Also, there didn't seem to be much of it! I tipped the fruity mixture into a double lined tin. I then siphoned off enough to fill a cupcake case as I was impatient for a taste. I placed the cake tin into the smaller oven which was on a very low heat. It would remain in the oven for around four and a half hours. I put the cupcake case into the larger oven alongside our dinner and put the oven to a higher temperature. Once the tiny cake was done, I was quick to have a taste. It really did taste good and the enclosed fruit was scrummy. It hadn't been left to mature, so obviously the actual Christmas cake would be far richer. I just couldn't help but feel a little disappointed that is was such a light cake, but that is just my personal taste. Before I went to bed I took the cake out of the oven. The top of the cake had a sort of sugary crust, it was so shiny! I left it to cool in the tin overnight and took my weary body off to bed.
It seemed a little odd to head straight for a bottle of brandy first thing in the morning, but I had an important job to attend to. I made tiny holes in the cake and then poured around a tablespoon or so of brandy over the now cold cake. I could actually hear the cake soaking up the brandy! I took the inebriated cake out of the tin and took off the greaseproof paper before wrapping it in another fresh double layer followed by a single layer of foil; at least it will be warm for winter. I just have to remember to keep 'feeding' it with brandy every so often until it is ready to be covered with marzipan. I will, of course, update this blog entry when I come to decorate the cake and let you know what it tastes like. Now I have made my Christmas cake it is officially the season to be jolly – Ho, Ho, Ho! (sorry)!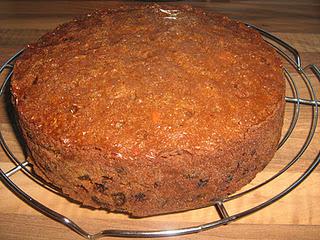 My 'naked' Christmas Cake :-)