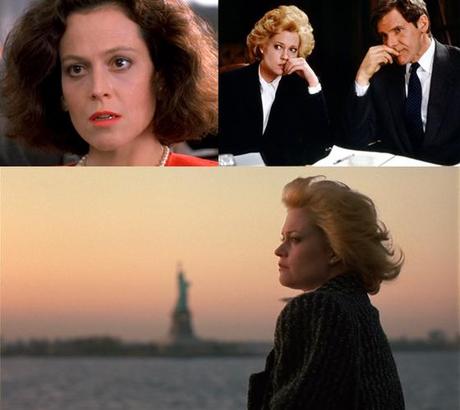 "You can bend the rules plenty once you get to the top, but not while you're trying to get there. And if you're someone like me, you can't get there without bending the rules."
Working Girl (1988) opens with the award-winning soundtrack by Carly Simon, Let The River Run, who I like it so much sometimes playing in my mind. The song supported visuals of New York landmarks such statue of liberty and hundreds of people in the street going to work. One of them is Tess McGill (Melanie Griffith), a 30-year-old secretary who feels like her career gets nowhere.
When you worked as secretary for years until you are 30 like Tess and already finished studying in business class, but you expect some sorts of big change or promotion. But nothing changed in her career life. After having a clash with his boss for several times, she's up for the very last job relocation. She's now a secretary of Katherine Parker (Sigourney Weaver), a stunning and ambitious woman who has the same age with her. Katherine seem to be more cooperative and welcome to her ideas to help Trask industry, the place they worked for, a stockbroker company. She admired Katherine and feel it is now to show her capability. After all, it's nice working for a woman after always working for men (who often mistreated her).
Unfortunately, Katherine seems to have her own agenda. Tess couldn't help but feel Katherine's life is so perfect when she mentioned that she's waiting for her wealthy boyfriend to propose to her. Tess found out that her ideas was stolen by Katherine when she found her note in her computer. As if she haven't got enough problems, she caught his boyfriend Mick (Alec Baldwin) in bed with her friend. When Katherine got herself injured because of a ski accident, Tess is trusted to be her left-hand assistant. But Tess take this opportunity to do her ideas herself by playing Katherine's job. She schedule appointment with another executive, Jack Trainer (Harrison Ford). But as it turns out, they meet each other earlier in a company gathering without knowing who's who, they found each other attracted. Tess still won't give up, she continues her 'plan' though her friend advised her to end it.
Seeing Working Girl, I don't think there's much difference about work competition between the late '80s and now. Except with the shoulder pads and the crazy big hair. Maybe now it's a lot more complicated and hard. When you live in a big city, you should expect the competition a lot tougher. Imagine there's multiple person like you reaching to top, including the young graduates with fresh ideas. And imagine, after years doing the same job, you end up working for a successful person with your age. Such a bum, but what's great with Tess, is when some people in her age might give up and forgetting their ambitions, she still have her fire.
She's so focus and determined with her plan running her ideas herself, she half-ignored the attraction she feels with Jack, even though the good-looking man is high over heels with her. But guess what, Jack is not exactly single. And if you're good, you can guess who is Jack's girlfriend.
With the potential love affair Tess have with Jack, you might categorized Working Girl as a romance flick. But thankfully, the portion of her trying to get her ideas working is slightly bigger. Tess' story with her boyfriend Mick seem unimportant or just an addition to the big career story. But it showed that Tess is not easily satisfied with her ordinary life and work. Though the romance is a spicy addition to the drama film, it's Tess' determination who made this film an inspiring story. It's sending a message that if you're following the rules and doing the same thing over and over again, the result will always be the same. But if you're willing to take a big risk, to show your talent out of the box, then it can be either a big mess or otherwise, a very big success.
Melanie Griffith's sexy and adorable look and Harrison Ford's handsome profile makes this movie such a good view for the eyes, their chemistry together felt very natural. Not to mention Griffith's (at that time) very modern formal wear. Wearing her own clothes and borrowing Katherine's branded items, actually now is back on style. The three central characters; Griffith, Ford and especially Weaver were excellent together. Is it selling dreams? Maybe, but when you're taking a big risk, anything could happen. Haven't seen a lot from Mike Nichols since The Graduate, but so far I love this one better. But if you love simple uplifting drama, you'll love this one.
Movie Score :