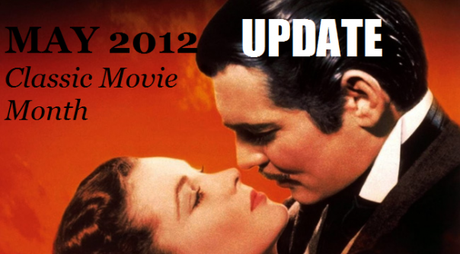 Just over a week ago I started my May 2012: Classic Movie Month Challenge (which will most likely extend into June as well). I came up with a list of thirty five films from the classic Hollywood era that I planned to watch over the course of the next month or two. Every week until the marathon is complete, I will be posting an update to let everyone know how it's going. First of all, you can view the original list of films here.
Before the marathon began I saw Sweet Smell of Success (1957) and Bigger than Life (1956). Since the marathon began on May 7th, I have seen:
Modern Times (1936)
The Night of the Hunter (1955)
The Ox-Bow Incident (1943)
The Maltese Falcon (1941)
I know four isn't a lot for a period of eight days, but I'm really going to step up my game. Tonight I'm watching two films on the list: Safety Last (1923) and Rebel Without a Cause (1955). I also plan to see The Grapes of Wrath, The Man Who Shot Liberty Valance, Brief Encounter and The Red Shoes before the end of the week, as well as possibly others. This time next week I'll be back with another update. If you want to read my reviews of the films I watch, I won't be reviewing many of them on my site, but if you're on Letterboxd, follow me here and read my brief reviews of the films as I see them. If you're not on Letterboxd and want to be, let me know your email and I'll send you an invite as I still have three left.
Back to the subject: I'm thoroughly enjoying my classic movie marathon and each film I see is a delightful new discovery. There are still loads on my list I've been wanting to see for ages! What do you think of the marathon, and/or what I've seen so far?