If only this line-up of Classic GP cars, pictured outside the pits at the historic circuit at Reims, in France, were real. I'd like to be there to hear each start up, one by one, then roar away. Alas, they are just my little 1:43 diecast models, lined up as they are in the cabinet, taken out for a day of diorama photos and 'what ifs'.(Tip: if you click on the photos, especially this first one, they pop up much bigger.)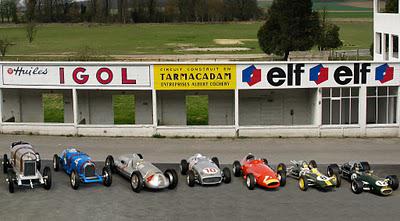 I have them organised this way not only so it's chronological, oldest left and newest right,
but also because it tells the story of how cars became smaller as they became faster.
Tyres got wider, bodies lower and, eventually, they even changed where they put the engine.
Let's have a look at them one by one, pictured as they are on this sunny day here at Reims.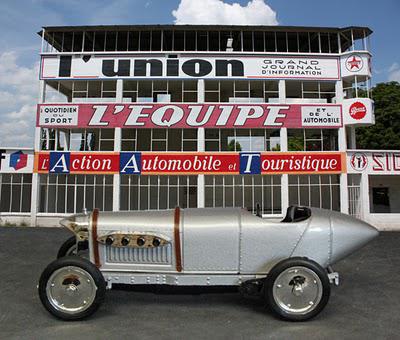 Oldest first. The Blitzen Benz from 1911. The model is 1:43 (as are all the others) made
by Brumm. What a car! This not only held the world land speed record from 1911 through
to 1919, for a while it had the outright speed record for any man-made bit of machinery
It was faster than any plane, any train. At Daytona Beach in 1911, driver Bob Burman got
the chain-driven (yes!) Benz up to 141mph (228km/h). Under the hood was a 21.5 litre four
cylinder engine, developing 200hp at 1600 rpm. Many engines in these early days were huge.
There was a big debate between engineers as to whether engine capacity or revs was the way
to get more speed out of cars, and with the Blitzen Benz the 'Big Capacity' guys had a
very strong argument with their 21.5 litre beast.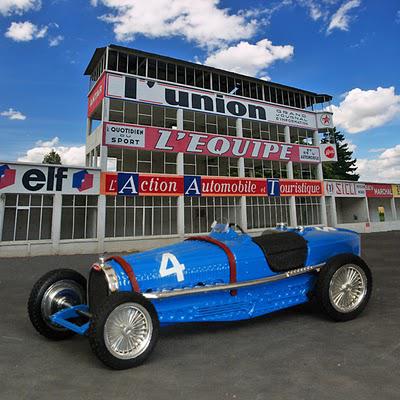 We're leaping ahead 20 years now, to the years 1933-36, when this Bugatti Type 59
competed in many Grands Prix, with drivers such as Nuvolari at the wheel from time to time.
Powered by a 3.3 litre twin-cam, supercharged straight eight, it developed 250hp at 5500rpm.
Its top speed of around 230km/h wasn't much quicker than the Blitzen Benz, but this Bugatti
was a true GP car with great cornering ability, while the Blitzen Benz was more of a banked
oval or beach-flats kind of speedster. The Blitzen Benz weighed in at 1540kg, and the nippy
Bugatti was just 900kg. Italian model-maker Brumm has done a good job with this one.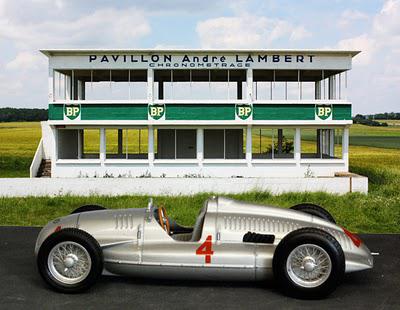 If they staged an outright stop speed test of our assembled classics, this one might win the
top speed battle. This 1938 Auto Union Type D could make it to 340km/h (210mph), thanks
to its 3 litre V12, which developed 485bhp @7000 supercharged rpm. This machine,
at 850kg, weighed less than the Bugatti. This car won the British GP in 1938, with Nuvolari
at the wheel. This, by the way, is a lovely Minichamps model, very nice.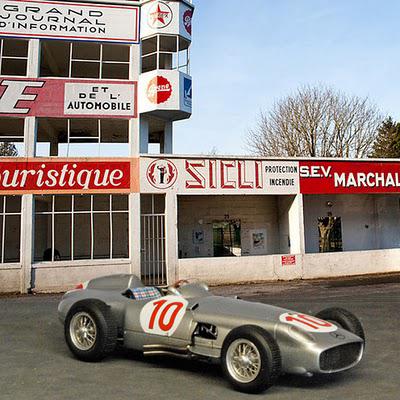 The war is over, it's 1954, and the Mercedes W196 driven by people such as Juan Manuel
Fangio and Stirling Moss were only trying to catch each other. They won 9 of the 12 Grand Prix
in 1954-55. This is the first unsupercharged GP Mercedes. Its  2.5 litre straight eight with
desmodromic valves made290bhp @8200 rpm, propelling the 850kg car to a top speed
around 300km/h (185mph). This model is made by German firm Premium Classixxs.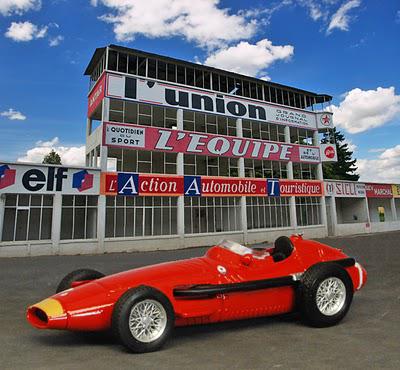 This has always been my favourite classic GP car to look at. It's the Maserati 250F which
Fangio drove in 1957 to win his final world championship. It's powered by a 3.5 litre V12
which developed 310bhp @7200 rpm. Ultra-light, it weighed in at just 650kg and
had a top speed of 305km/h. This model by Brumm does that sleek Maserati shape proud.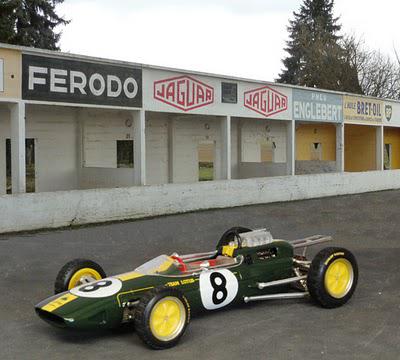 This is the Lotus 25 which Jim Clark drove to victory in the Italian GP in 1963. This is such a
simple, 'pure' idea of a racing car. It weighs a super-light 456kg, and its Coventry Climax
1500cc V8, which developed 195bhp @9500rpm, took it up to 300km/h. All it lacked
was modern tyres. Like so many of my GP car models, this one is also by Brumm.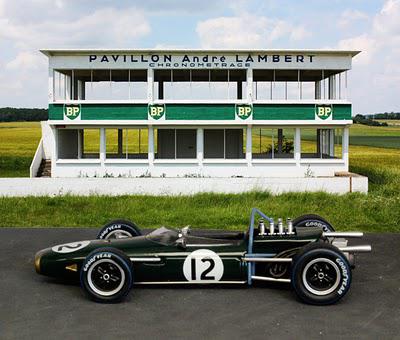 Last in my line-up of cars is the car I have always called the Repco Brabham, (but the model is
labelled as the 'BT-19') the car which Sir Jack Brabham built and drove to victory in the
1966 World Championship. No-one had done that before, and it's unlikely anyone will ever
do it again, either. The designer of the car was Ron Tauranac, and it's based around a 3-litre
V8 developedby Australian firm Repco, under the supervision of legend Phil Irving, the
Australian who also designed the famous Vincent V-twin motorcycle. Brabham won the
championship using reliability and light weight as his strategy. The engine itself was based
on an alloy Oldsmobile block, and used a lot of ordinary parts available over the counter.
It developed220kw @8000rpm (compared to the 250kW of the Ferrari and Maserati
V12s that it shared the grid with). The car, though heavier than Jim Clark's Lotus 25,
weighed just 570kg, and was one of the lightest in the field. 'Black Jack' was 40 when
he won in 1966, picking up the championship with four wins (in a row) and one fourth
(and twoDNFs). This nice model is made by Top Gear, an Australian firm.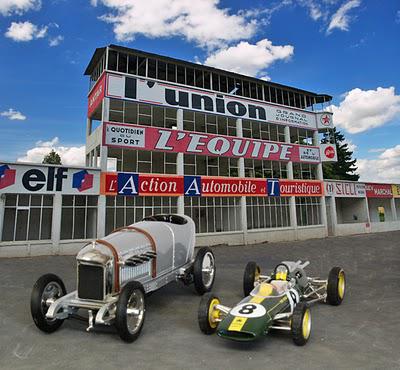 Finally, to celebrate the years: the oldest and biggest lined up with the smallest: the Blitzen
Benz of 1911 and the pretty Lotus 25 of 1963. I know which one I'd like to drive!
Everyone at the GP Classics Meet had a lovely day at Reims. Every car ran perfectly, no problems at all. The roaring noise of the Auto Union Type D on full power shocked some, while the fly-by of the Blitzen Benz, at 140mph, left many mouths gaping in amazement. But for me, it's watching that beautiful Maserati 250F which always gets me. It might be a very fast classic GP car to many folk, but to me it is also Art.