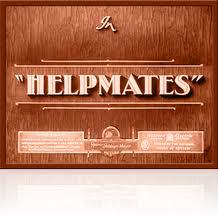 Year: 1932
Producer: Hal Roach
Director: James Parrot
Starring
Oliver Hardy
Stan Laurel
Plot: Ollie regrets the wild party from the night before. He has a punishing hangover and the house is a tip, but at least his wife is on holiday. Unfortunately a telegram arrives telling him that his wife is due to return in a matter of hours. The solution to his problem is to ask for some help from his friend Stan but it doesn't take long for him to become a big part of the problem.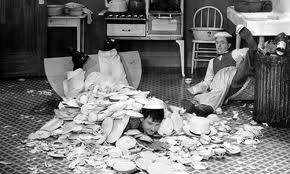 Initial thoughts: Laurel and Hardy made some excellent films while they worked with Hal Roach with Helpmates being one of the best. This film is packed with memorable one liners and well thought out visual gags and like most of their films it whizzes by at a satisfying pace. The opening scene sees a guilty Ollie standing in front of a mirror scolding himself for being a part of the wild party from the night before. The fun really starts when Ollie attempts to call Stan who confuses the ringing of the phone with his alarm clock. When Stan finally answers the phone Ollie asks him where he is. Stan replies with 'I'm here with me.' This is just one of the many classic lines in the film. Trust me there are plenty more. The line might not look that funny on paper but it's all in the delivery and Stan Laurel delivers it perfectly.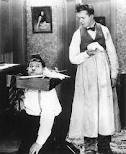 Considering how old the film is it still manages to feel fresh and I think this is partly because of the relaxed nature of the two main stars. Many films of that era feel dated because of the acting feels stiff and unrealistic. Stan and Ollie on the other hand deliver their lines as if they mean them with banter that wouldn't seem to amiss in modern day cinema. The same can be said for the main theme of the film which looks at a hen pecked husband, a nagging wife and an inept friend who means well but somehow manages to ruin everything. Stan and Ollie manage to out goof Jim Carey, deliver witty one liners better than Bill Murray and they have more energy than Sacha Baron Cohen. I will add that those three comedians are skilled in their own right.
Overall Opinion: There's so much in this film that it can be enjoyed time and time again. There are so many great little touches from Oliver Hardy's trademark glance at the camera to Stan Laurels vacant expressions. Helpmates is surely one of the greats of Hal Roach Laurel and Hardy era and I enjoy it as much today as I did when I was a kid. (That makes me sound old but I'm really not. Or am I?) Anyway, Helpmates is well worth watching so give it a go, you won't be disappointed.