Yesterday, the BBC announced Doctor Who's first spin-off since the Sarah Jane Adventures and Torchwood.  At long last, we're getting that spin-off about the Paternoster Gang, right?  Nah.  Instead they're going to do a kind of sci-fi Buffy the Vampire Slayer thing called Class.  It will follow a select group of students from Coal Hill School in present day London because, as the press release stated, "Incredible dangers are breaking through the walls of time and space, and with darkness coming, London is unprotected."
Coal Hill, the setting for the very first episode of Doctor Who in 1963, was reintegrated into the show in time for the 50th Anniversary a couple of years ago.  Then it was featured rather heavily during season 8 when Clara (Jenna Coleman) struggled to balance her life with the Doctor with her job at the school as well as her developing romance with one of her fellow teachers.  There were multiple episodes either predominantly set at the school or featuring students from the school as temporary companions, and now the school is getting its own show right as Jenna Coleman leaves Doctor Who.  If she'll have any part in Class they're not letting on yet.
Steven Moffat will take his customary executive producer credit, but it appears as if the real person steering this particular ship will be YA author Patrick Ness, two time winner of the Carnegie Medal for children's literature and known for the Chaos Walking trilogy.  His novel A Monsters Call will be a film starring Liam Neeson next year, and Class will be his first experience in television.
Here are the pertinent quotes:
Ness: "I'm astounded and thrilled to be entering the Doctor Who universe, which is as vast as time and space itself. I can't wait for people to meet the heroes of Class, to meet the all-new villains and aliens, to remember that the horrors of the darkest corners of existence are just about on par with having to pass your A-Levels."

Moffat:  "No one has documented the dark and exhilarating world of the teenager like Patrick Ness, and now we're bringing his brilliant story-telling into Doctor Who. This is growing up in modern Britain – but with monsters!"
The first season of Class will have 8 episodes, and it will air on BBC Three, which is confusing for everyone because BBC Three is scheduled to become an online-only channel by as early the start of 2016.  The BBC actually halved BBC Three's operating budget.  So, it seems like a strange time for the channel to be launching a presumably expensive sci-fi series.  No word yet on whether or not BBC America will pick it up to let those of us in the States check it out.
The whole thing reminds me of a running joke I shared with a fellow Whovian at a watch party for the season 9 premiere.  Here in the States, DisneyXD started showing Doctor Who re-runs over the summer, but only the David Tennant episodes, which the network oddly pretends are brand new.  I have personally seen plenty of commercials for these episodes while watching Gravity Falls.  As such, during the season 9 premiere commercial breaks I kept joking about how certain scenes from the episode would play on DisneyXD.  The cold open involves a small child stuck in a glorified mine field where hands with eyes in their palms rise from the ground, seeking to hold onto someone's ankle long enough for a giant underground monster to emerge and swallow them whole.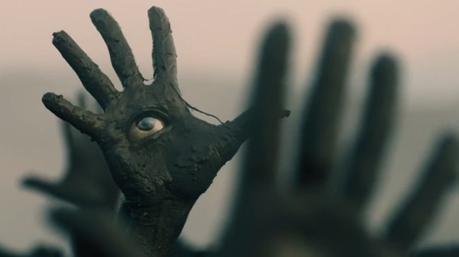 Imagine that being followed by a typically peppy Disney commercial with the voice-over guy saying, "Tonight on Girl Meets World, Riley meets the big school dance, and can't decide which boy to go with!"  Oh, what sweet juxtaposition.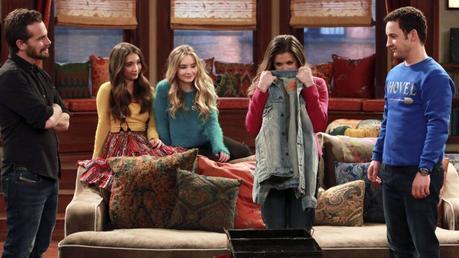 The point is that Doctor Who, particularly the Peter Capaldi era, does not always seem like an all-ages show, and it's probably a good idea to capitalize on the show's popularity with a more kid-friendly spin-off.  It's exactly what Russel T. Davies pulled off with The Sarah Jane Adventures.  However, my Doctor Who fandom has its limits, and while I watched a bit of Sarah Jane Adventures I was eventually turned away by just how much it seemed like a kid's show with goofier monsters, a weirdly rotating cast of younger characters, fairly ho-hum stories and a noticeably smaller budget.

That's where my mind goes when I try to picture what Class might look like, and it doesn't exactly help that I found the various recurring Coal Hill students we met in season 8 tolerable if a tad bit shoved in where they didn't belong.
So, while I applaud the BBC for launching another Doctor Who spin-off I am left wondering whether or not it's even something I'll care to watch.  The points of comparison they make in the press release, specifically Buffy the Vampire Slayer and Hunger Games, suggest high-minded goals, and Sarah Jane was made during the Russel T. Davies era.  Steven Moffat runs a very different ship. Class could be fantastic.
This all might be academic because at the moment I have no idea if I'll even have the option to legally view Class when it debuts next year.  What about you?  Does this sound like something you'll want to watch?
Source: RadioTimes