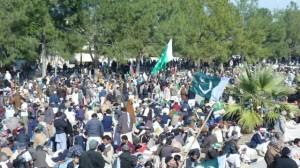 The clashes between police and the partakers of long march were reported near Kulsoom Plaza of Blue Area in Islamabad on Tuesday.
The tension begun when Police fired tear gas at crowed of protesters who were converging on the parliament. In reply, some angered demonstrates flung stones at the security forces.
According to police, someone from the crowd fired aerial shots after which the security forces fired tear gas to disperse the demonstrators. Following the fray, Tehreek-e-Minhaj ul Quran chief Tahir-ul-Qadri was secured and surrounded by the members of his party.
Tahir-ul-Qadri's deadline to the government to voluntary dissolve the national and provincial assemblies till 11:AM has been expired and the TMQ leader is expected to announce his future plan in an address at D-Chowk shortly.