Please share if you love it!
Twitter
0
Google+
0
Facebook
0

When you love a person, you'll do anything to make them happy. That includes making their favorite clam dish, even if you wouldn't touch a clam to your lips with a ten foot pole!
Mr. Mike adores clams, so when our local fish market had them on sale, I bit the bullet and bought two pounds just for my beloved hubby.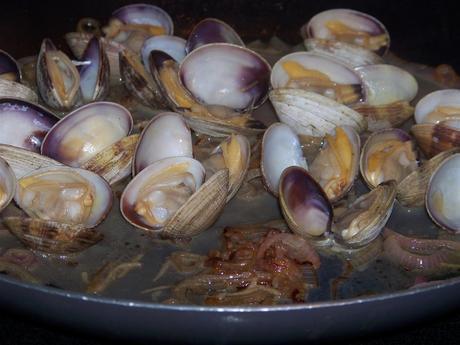 It can be tough to be a creative cook when the ingredient of choice doesn't top your list of favorite foods, but when it comes to seafood (specifically clams), I've continued to follow the cooking advice of our local butcher.
The first time I headed to the seafood counter, unsure as to what I should do with these interesting shellfish, he was more than happy to provide this clam recipe for garlicky clams. I've twisted up his version ever since.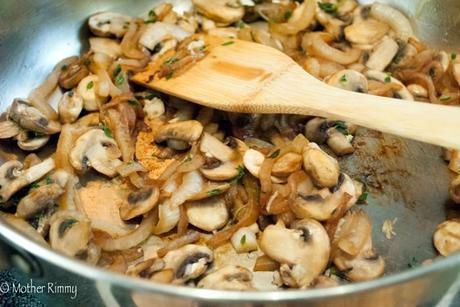 This particular night I decided a saute of mushrooms, onions and garlic would make a hearty base for our steamed clams.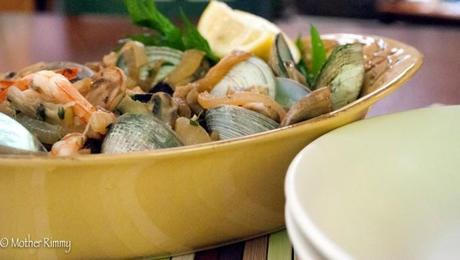 Fresh thyme with a splash of dry white wine finished of Mike's clams, and when I served them to his surprised delight, the look on his face made my efforts worth it.
Enjoy and have a terrific weekend everyone!
~Kristi
Print

Clam, Shrimp and Mushroom Sauté with Lemon and Herbs
Serving Size: 2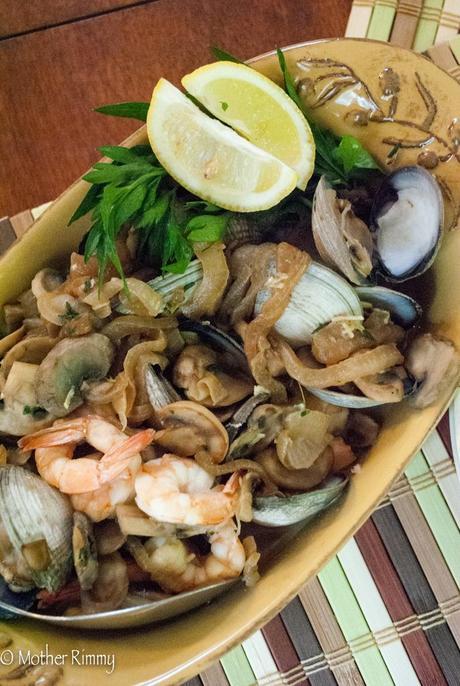 Ingredients
20 Manilla Clams, cleaned
20 medium shrimp, peeled and deveined
2 tablespoons olive oil
1 medium sweet onion, thinly sliced
8 ounces mushrooms, sliced
4 tablespoons fresh thyme, leaves
1 clove garlic, large, minced
½ cup dry white wine
1 tablespoons butter
1 large lemon, cut into wedges
Instructions
Heat a large pan over medium high heat and add olive oil.
Add onion and reduce heat to medium low. Sweat for 20 minutes until onion is just caramelizing. Increase heat to medium and add mushrooms, thyme and garlic, then continue to cook for another 5 minutes to soften mushrooms.
Increase heat to medium high and add wine. Bring to a boil.
Add clams and cover the pan. Watch clams and when they are almost fully open add shrimp distributed evenly around the pan. Cook the shrimp until they turn pink and just start to curl and clams are opened.
Remove any unopened clams.
Add a several squeezes of lemon juice and butter. Lightly stir to incorporate.
Serve with lemon wedges.
Notes
Food energy: 379kcal Saturated fatty acids: 5.82g Monounsaturated fatty acids: 11.50g Polyunsaturated fatty acids: 2.07g Total fat: 19.39g Calories from fat: 174 Cholesterol: 105mg Carbohydrate, by difference: 14.73g Total dietary fiber: 2.11g Protein: 24.32g Total lipid (fat): 21.08g Water: 322.22g Ash: 4.02g Total sugars: 5.24g Calcium: 86mg Iron: 2.51mg Magnesium: 49mg Phosphorus: 427mg Potassium: 590mg Sodium: 884mg
2.5http://motherrimmy.com/clam-recipe-shrimp-mushroom-saute-lemon-herbs/Mother Rimmy�s Cooking Light Done Right by Kristin A. Rimkus is licensed under a Creative Commons Attribution-Noncommercial-No Derivative Works 3.0 United States License.
Sign up for my weekly newsletter and get Ten Tips to Skinny Up Your Meals ebook free!

"If you decide to make a purchase through my link, Amazon will pay me a commission for it. This doesn't cost you anything additional. These commissions help to keep the rest of my content free, so thank you!"