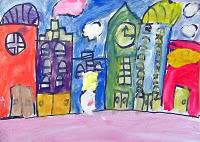 I've never been a big fan of tempera paints, they often seemed a bit dull to me. But if you team them up with a fat black marker, it makes for a bolder image, no matter what the age of the student.

1. It really helps to make or buy some grid paper for students so they can concentrate on tracing straight lines instead of struggling with a ruler. I used my Mac and color printer to make 9" x 12" paper with a thin blue 1/2" square grid. Ask the students to start by drawing a ground line (in pencil) near the bottom.
2. Next they are to draw a series of rectangle buildings that touch each other. The tops may be flat, angled or round, but there should be a variety. Show the students some examples of details they may add; windows and doors in all different shapes and sizes. Encourage them to keep things simple. I also found it helpful to ban signs as they tend to get too distracting.
3. Give each student a permanent black marker to trace all their pencil lines.
4. Distribute paper plates with an assortment of tempera paint colors, including white. This will encourage mixing of lighter colors that won't hide the black marker. Instruct the students to carefully paint in all the parts of their drawing.