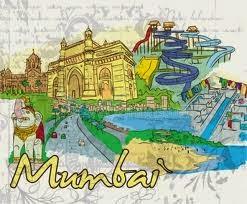 I will start a new session from now on called "City Updates." I am based in Mumbai and I can share what I come across in this big big city. Mumbai has been a happening city and there is always some action happening somewhere. Whatever I catch is what I share.
Some of you may know I am an avid traveler. Well unfortunately not international or intercity as of now but certainly intracity. I cover the length and the breath of the city almost a week. Sometimes more than once. I have also enrolled to so many of the subscription letters from various brands who keep updating me about their offers and event often. Talk about your mailbox stashed with 200 every morning. And the every loaded sms box that refuses to be empty anytime. And how can I forget the newspaper supplements that are fatter than the newspaper itself with all sort of masala and ads.
As of now I will cover Mumbai, but I feel we must not restrict to one city. We will grow gradually. 
So whatever catches my eye, I will share :)
I would cover any topic, and not confide to just cosmetics, makeup or fashion. I would love to cover many topics and I would want your help to suggest a few. The ones I can think of is ofcourse makeup, cosmetics, event, art, fun, fashion, womanhood, food, restaurants, eatery, festivals, cultural activities, new hangouts, review of the places I have visited, best deals available and so much more. To start with it would be as and when I find something interesting. Later I would aim to make it a weekly update maybe.
How do you find the idea? Do share in your thoughts on it. 
Next update coming very soon.