An Artistic Intitiative at the Barclay Center Prompts Blogger Speculation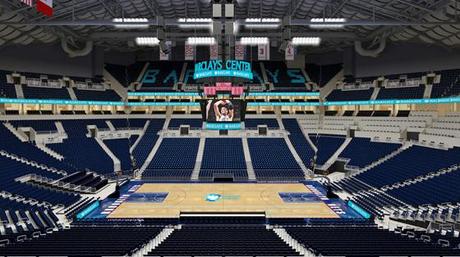 Wouldn't you want to see an opera here? With free popcorn?
Image © 2011 NJ.com/New Jersey Nets Basketball
A little over a month ago,
Superconductor
ran
an article about the New York City Opera and its possible choices
for a new home. Among the serious possibilities (City Center, BAM) were a number of tongue-in-cheek suggestions including the Barclay Center.
Now let me make this clear:
I...was...kidding!
The Barclay seemed as likely a candidate for City Opera relocation as Crif Dogs in the East Village or (my personal favorite) the Owl's Head Water Reclamation Plant. But that twisted vision of the future may come to pass.
Built at the corner of Atlantic Avenue, the Flatbush Avenue Extension and Fourth Avenue, the Barclay Center is the new basketball arena currently under construction as part of the multijillion-dollar Atlantic Yards development. It is scheduled to open as home of the transplanted (and soon to be renamed) New Jersey Nets next year. But according to an article in the
New York Times
this sarcastic scenario is a possibility, albeit a dim one.
The Times ran a story chronicling the recent deal between the Barclay Center and the neighboring Brooklyn Academy of Music, to use the white elephant arena as a large scale stage for performing arts events of an undisclosed nature. The performances would begin in the Spring of 2013, but no specific reference was made to any artists or possible choice of repertory.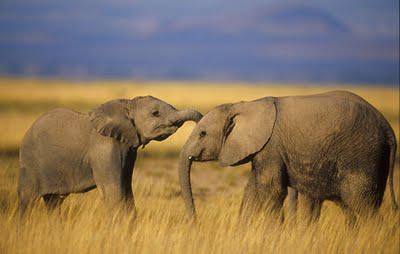 Hey Bob! I think there might be a job for us at City Opera!
Photo © 2006 African Wildlife Foundation
One cannot help but speculate if that includes large-scale performances by New York City Opera, assuming that the beleagured (and currently indigent) opera company can cobble together enough donations to put on any kind of season in 2013. Of course, turning a shiny new b-ball arena into a Brooklynite Baths of Caracalla for giant productions of
Aida
and
Turandot
is a cool idea, but it seems like this would be more the Metropolitan Opera's bag.
In other City Opera news, the company's recent preview performance of Rufus Wainwright's opera-to-be
Prima Donna
was met with a swarm of company protestors outside the Winter Garden in the World Financial Center. The merry musicians played excerpts from
La bohème
and
Carmen
, popular, beloved operas that the company used to mount before general manager George Steel took over and moved the city's second-biggest opera company out of its Lincoln Center digs.