The New York City Opera announces its 2012-2013 season.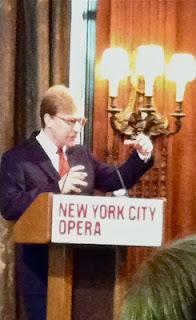 "He'll flip ya. Flip ya fo' real."
At today's presser, General Manager George Steel
demonstrates his kung fu approach to opera management.
Photo by the author.
After a bizarre 2011 that saw the New York City Opera leave its long-time home at Lincoln Center, next year sees the opera company settling down. Well, sort of. 
At today's press conference, the company announced its 2012-13 season: four new productions built entirely in-house. Board Chairman Chuck Wall announced deals with Brooklyn Academy of Music, City Center, agreeing to split the bulk of its performances between those two venues for the next three years. They will perform two operas in each venue, keeping to the model of just four shows in each run.
Following Mr. Wall's announcement, George Steel took the podium to present the next season, which will take place in the late winter/early spring of 2013.
Next season consists of four new productions of venerable operas by known composers. It should be noted that these are not "partner" or "import" shows, but productions that will be entirely created by New York City Opera personnel. In the maverick style that has characterized Mr. Steel's administration, the operas are all works that exist, at best, on the outer fringe of the standard repertory.
Powder Her Face
(Feb. 15-23 at Brooklyn Academy of Music) The season opens at BAM in February, with Thomas Ádes' first opera
Powder Her Face
, in a new production by director Jay Schelb, who has had nice things written about him in
Time Out New York.
Powder is a merry scandal-driven drama focusing on British bad girl Margaret Campbell, whom the press dubbed "The Dirty Duchess" (not to be confused with La Cieca.)
Analysis:
Mr. Ádes' work is currently in vogue, with the rival Metropolitan Opera staging the New York premiere of
The Tempest
next season.
Powder
was first staged in New York at BAM's Majestic Theater in 1997.
The Turn of the Screw (
Feb. 24-March 2 at BAM)
Despite its title, this is
not
a re-telling of last year's City Opera labor negotiations with the orchestra and chorus, but an adaptation of Henry James' short novel.The wrenching story of innocent children corrupted by not-so-innocent ghosts,
Screw
will be directed by Sam Buntrock.
Analysis:
This is an interesting choice, particularly considering the company's last foray into the supernatural: a disastrous 2011 production of Stephen Schwarz'
Séance on a Wet Afternoon.
It should be noted that while City Opera last
Turn
ed the
Screw
in  1996 production by Mark Lamos, this is an all-new staging.
Mosè en Egitto
(April 14-20 at City Center.) The company moves (back) to City Center in April. Since Passover is early next year, observant opera lovers will be able to enjoy Rossini's
Mosè en Egitto,
a three-act re-creation of the events depicted in the Book of Exodus. Michael Counts, whose imaginative direction was the best thing about 2011's production of
Monodramas
returns to lead the opera company to the land of manna and matzoh.
Analysis:
City Opera reaches deep into the Rossini catalog for this Biblical drama from 1818. This is an Italian opera, and (almost) completely different from
Moïse et Pharaon
>, the composer's later recycling of the same libretto for the Paris stage in 1827. Presenting Rossini that requires visual flair and spectacle is a welcome risk for this company. Mr. Steel, we're ready for our close-up.
La Périchole
(April 21-27 at City Center.) The season ends with
La Périchole
, a Jacques Offenbach rarity mounted by house favorite director Christopher Alden. La Pèrichole is a comic romp about class warfare in Peru, making it the second opera (that I can think of) to be set in that exotic land.
Analysis
: This is an odd choice, considering that New Yorkers are eagerly anticipating Mr. Alden's
Nozze di Figaro
(now slated for 2014) which would complete his Da Ponte trilogy and probably allow City Opera to make a mint by running it in repertory with
Cosí fan tutte
and
Don Giovanni.
George Steel has tried his hand at odd French repertory before (the 2010 revival of
L'Etoile
comes to mind) with mixed results, but Mr. Alden is critically acclaimed.
Watch the opening scene of Powder Her Face.