Troubled company relaunches with tubercular trollop.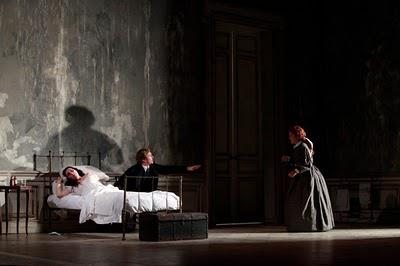 The grim specter of death: Act III of La traviata at Glimmerglass.
Photo by Richard Termine © 2009 Glimmerglass Festival.
After a turbulent off-season that saw New York City Opera uproot itself from its Lincoln Center home, the company prepares to make a return with
La Traviata
. In keeping with the company's new economic policies, there will be just four performances, through Feb. 18.
La Traviata
is the last of the "big three" Verdi operas, a tryptich of works that marked the composer's transition to full maturity. It is a searing tragedy: the story of a courtesan wooed by one of her customers--only to have their relationship nixed by his overbearing father and the onset of terminal illness. 
Although this is advertised as a "new production" on the City Opera website, this is really an import. The staging, by Jonathan Miller, first appeared at the Glimmerglass Festival in 2009. This run stars two artists new to City Opera: Brooklyn-born soprano Laquita Mitchell as Violetta and Canadian tenor David Pomeroy as Alfredo. 
Watch a Glimmerglass trailer for the production here:
Recording Recommendations:
As Violetta is one of the most coveted, yet challenging roles in the repertory, there are a lot of "Trav" recordings to choose from. Picking one is largely a matter of individual taste, and may rest with one's opinion of a particular soprano. That said, here's a few good ones:
Coro e Orchestra de La Scala
, cond. Antonio Votto (DG, 1963)
Violetta
: Renata Scotto
Alfredo
: Gianni Raimondi
Germont
: Ettore Bastianini The glories of this 1963 recording are the young Renata Scotto (in
prima voce
as Violetta) and the rock-solid presence of baritone Ettore Bastianini as the elder Germont. I still recommend it, especially at bargain price.
Bavarian State Opera Orchestra
cond. Carlos Kleiber (DG, 1977)
Violetta:
Ileana Cotrubas
Alfredo:
Plácido Domingo
Germont:
Sherrill Milnes Carlos Kleiber was an extraordinary conducting talent who made very few recordings. This was one of his best, a studio-made, note-complete
Traviata
with a sensitive heroine in Ileana Cotrubas. The redoubtable team of Sherrill Milnes and Placído Domingo recorded a lot of operas together in the 1970s, but they manage to convince the listener as father and son.
Coro e Orchestra de La Scala
cond. Riccardo Muti (Sony, 1992)
Violetta:
Tiziana Fabbricini
Alfredo:
Roberto Alagna
Germont:
Paolo Coni Expert Verdi conducting and a compelling performance by Roberto Alagna as Alfredo. Tiziana Fabbricini is a very good, involving Violetta who is helped by the live, theatrical recording made in Italy's most famous opera house. Reissued last year.
Vienna Philharmonic
cond. Carlo Rizzi (DG, 2005)
Violetta:
Anna Netrebko
Alfredo:
Rolando Villazón
Germont:
Thomas Hampson I will also put a word in for this entertaining live recording from the Salzburg Festival. Anna Netrebko, captured in great form as Verdi's bird in a gilded cage. Rolando Villazon before he lost his voice. And like the Muti set, this has the immediacy of a live recording.