The City Opera moves back to Manhattan with a new take on Mozart's classic.
by Paul Pelkonen
"Who did it at the end? They all did?"
--Corporal Walter "Radar" O'Reilly on M*A*S*H.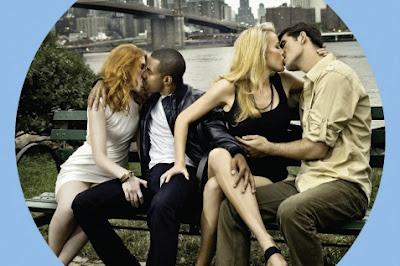 A kiss before they leave Brooklyn.
Promotional image for Cosí fan tutte © 2012 New York City Opera.
With this new production of Mozart's Cosí fan tutte directed by wunderkind Christopher Alden the New York City Opera hopes to duplicate the success of their 2009 Don Giovanni. This is the second of a projected trilogy of Mozart's operas, all directed by Mr. Alden. Le Nozze di Figaro is planned for a future season.
 Cosí (the title is based on a line from The Marriage of Figaro)  is an intimate opera, the story of two callow suitors who decide to disguise themselves and switch fiancées in order to win a bet. That makes it admirably suited to George Steel's newly mobile New York City Opera, who have gambled their future by leaving Lincoln Center and taking their shows to various venues located around New York City.
This is the company's first production at the Gerald W. Lynch Theater, located in the John Jay College of Criminal Justice. The Lynch Theater is about two blocks from the company's former home at the (former) New York State Theater. It can seat 605 opera-goers.
This cast features three singers new to the City Opera. in soprano Jennifer Holloway, who makes her company debut as Dorabella. Tenor Allan Clayton joins the company as Ferrando. Sara Jakubiak is Fiordiligi. Veteran Mozart baritone Rodney Gilfry takes the role of Don Alfonso. Christian Curnyn conducts.
Cosí opens March 18 and will run for four performances only.


Recording Recommendations:
Of the three Da Ponte operas, Cosí was the last to enter the standard repertory. There are many recordings of the opera, but just as many are out of print. Here are two good ones.
English Baroque Soloists cond. John Eliot Gardiner (DG Archiv, 1993)
Fiordiligi:  Amanda Roocroft
Dorabella: Rosa Mannion
Despina: Eiran James
Gugliemo: Rodney Gilfry
Ferrando: Rainer Trost
Don Alfonso: Carlos Feller
This is part of John Eliot Gardiner's classic cycle of Mozart operas on period instruments, with a young Rodney Gilfry taking the role of Gugliemo. Crystalline sound and an appendix with all the alternate numbers included.
Chamber Orchestra of Europe cond. Sir Georg Solti (Decca, 1996)
Fiordiligi: Renée Fleming
Dorabella: Anne Sofie von Otter
Despina: Adelina Scarabelli
Gugliemo: Olaf Bär
Ferrando: Frank Lopardo
Don Alfonso: Michele Pertusi
An all-star effort from Decca. This was Solti's second recording of the opera, made with an all-star cast of hopeful young singers including one Renée Fleming. Sparkling acoustic and for Fleming fans.