Ever since one motoring fool dared another similarly minded daredevil to race one another to somewhere far, far away, the French have been at the forefront of car rallying. The first ever car races held anywhere were, essentially, endurance rallies on dusty open roads. 
Since the end of the second world war the French, with their Citroens, Peugeots, Simcas, Renaults, Gordinis, Panhards and various backyard specials have always been competitive in rallying. Most of my diecast rally cars are from the 1950s and 60s, and most of these were very close to being bog-standard French sedans. 
Of course modern rally cars of the last few decades now wear lightweight bodies which conceal the fact that underneath their clothes they're million dollar special vehicles purpose-built for rally racing. They're nothing like their sedate, everyday equivalents, and so I'm not quite so interested in them and have only one modern-era rally car in my diecast cabinets – it's this one: Sebastien Loeb's Citroen C4.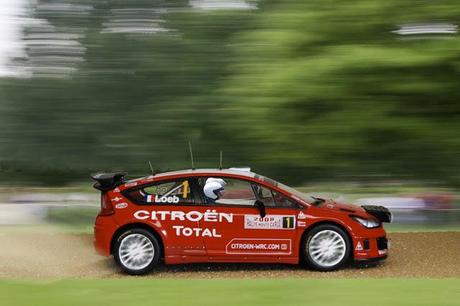 For this latest 'action' diorama, using an IXO 1:43 model of the Loeb Car, I have figured out
how to add 'dust' to trail behind the car, just like the real ones do.
The reason for breaking out into the modern era is simple, folks. Parked outside my house is my own Citroen C4 in 1:1 size, and while I thought it would be a bit naff to have a little silver model of my own sensible and reliable 2009 model Citroen C4, a 1:43 diecast model of the multiple World Rally Championship winner was a very appealing notion indeed. My 1:1 car is never going to win any races, but it's won me. It's a 1.6 litre turbo diesel, and I love it (it's my first diesel). It's probably the best car I have ever owned. I love it's incredibly grunty engine that demolishes hills with ease, and I love its unbelievably good fuel economy, which gives me 5 l/100km when doing 110 km/h highway driving, which works out at a touring fuel range of more than 1200km per tankful. It's a lovely, comfy two-person tourer, perfect for my wife and I.
But back to the rally-racing, diecast-collecting topic at hand: Sebastien Loeb and the Citroen C4. Seven World Rally Championships in a row from 2004-2010. Great driver, great team effort by Citroen. 
Of course I'm going to finish off this little posting with a You Tube video of the boy in action. I love in-car footage, and so we're off to Spain for an eight minute section that starts off very fast on the dirt and then plunges downhill, also quite quickly, on the tar.