*Wakes from 9-month slumber*
Wow, my last posting here at "The Die is Cast" was back in September last year. There's no particular reason for the big "sleep", blog-wise, other than I tired of doing my Photoshopped dioramas (hardly anyone was interested in them, anyway) and so that led to me taking a break from posting here.
However, I've still been collecting diecast cars and also getting into model-building for the first time, so I thought it's well overdue that I start posting about my hobby of collecting models once more, as I have quite a bit of activity to share with my tiny readership, and in later postings I'll focus on some planes and ships, in addition to the cars, vans and bikes.
I thought I'd start off with some fun I've been having in recent months, and that's collecting a few Citroen Type H vans, most of them with a "foodie" theme. Most of them are made by Eligor, in 1:43 scale.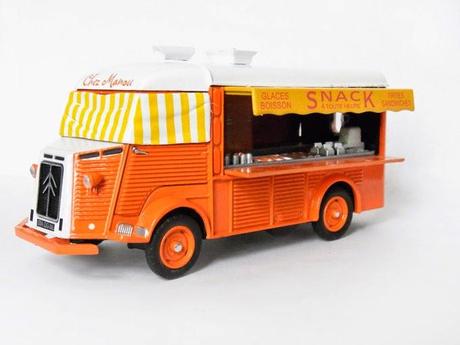 Probably my favourite, this beachy snack van is beautifully
detailed, and that awning on the windscreen is a real winner.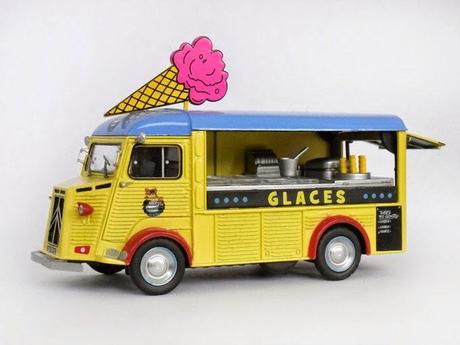 Coming in a close second, this ice-cream van is also superb.
One thing I love about these vans is how cheap they are; many
are less than $20US, to my mind a bargain.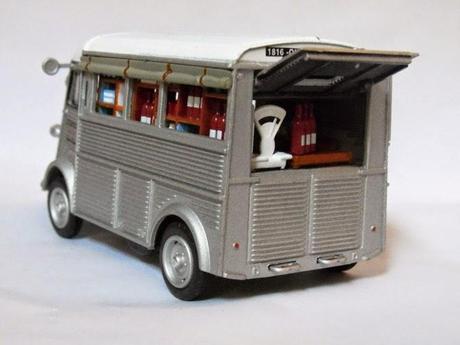 This "L'Epicier" (grocer) van has great looking roll-down
canvas sides (no, they don't work) but I love the set of scales
that you can see in this rear-angle shot.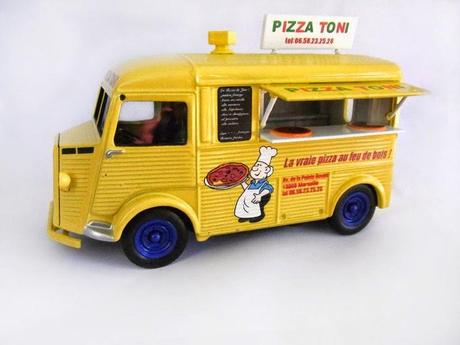 The detailing in this Eligor series is so good. This is the
Pizza Toni van, one that is not so common and sometimes
goes for higher prices in the 30-40 dollar range.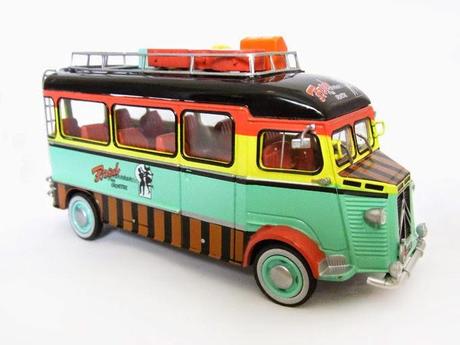 The last of my Eligors is this charming "Orchestra Bus"
complete with musical instrument shaped luggage on top.
The orchestra is the scintillating "Fred & Son".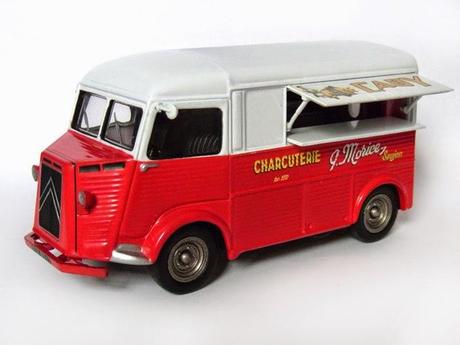 Not so beautifully done is this Charcuterie van made by Atlas.
At least it maintains the foodie theme perfectly well.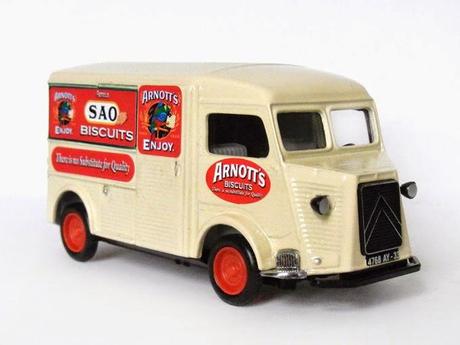 Not certain who makes this one, as it came in a Matchbox
box, but it doesn't have the same livery at the Matchbox item.
Instead, it has (for Australians) the very well known livery of
Sao Biscuits, one of our national icons. It was truly as cheap
as a packet of Saos, and it's welcome here at my place.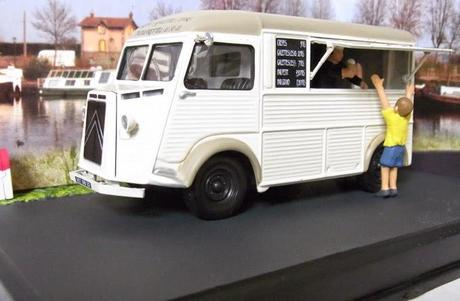 Altaya's superb "Route Bleue" series of dioramas includes
this Citroen Type H ice-cream van, complete with little boy
really hanging out for his ice-cream on a summer's day.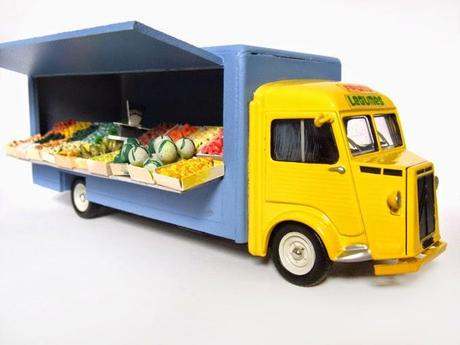 And some model-makers chop and modify their Type Hs.
I bought this from a modller called Daniel Lardon, of France.
It wasn't cheap (75 Euro) but I simply had to have this very
nicely made fruit and vegie seller's van, complete with a set
of scales and extremely well made 1:43 scale fruit and veg.
Finally, though I love these old hard-working Citroen vans, I had never seen one "in the flesh" until recently. Then, walking back to my car after an evening out at a restaurant in Sydney, there it was, parked in the street and lit up like a Christmas tree.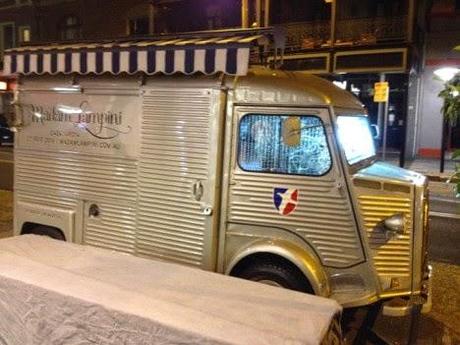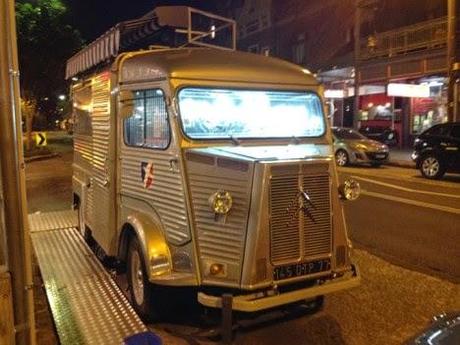 It belongs to a florist called 'Madame Limpani' (that's her
neon name in the windshield that my iPhone failed to cope
with). And so now I know, they're every bit as charming in
the flesh as they are in 1:43 scale.