I'm a fan of small brands, so when I received my Cirque order, I was reminded why I liked them in the first place. In my package, I received the cutest polish in a black pouch (what I expected), and a couple of Werther's Originals (yum!), as well as a written thank you note on my packing slip by Annie Pham, the creator of Cirque. I don't know about anyone else, but I truly appreciate these small gestures that shows how much Cirque appreciates its customers. It's hard for small brands to establish themselves in any industry. They are competing against behemoths that have prestige and experts at marketing, so I feel that brands that puts this much effort in ensuring their customers are pleasantly surprised deserves respect. I'd also like to mention that I'm going to try and post 2-3 times a week instead of once a month, as I did originally plan on updating on a regular basis. Now, onto the review!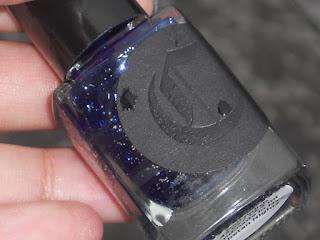 Cirque is a new nail polish brand that is Big 3 free. Part of the Dark Horse collection, Tibetan Nights is a royal blue jelly packed with small silver and blue micro-glitter and light blue bar glitter. I don't have anything like this in my stash, nor have I ever seen any polish like this.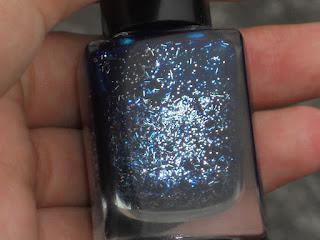 I ordered this nail polish on the 11th, and received it yesterday, so I really commend the fast processing/shipping of this brand. I used three coats for the pictures below, which provide a fairly opaque coverage for a jelly. My nails are rather short right now, so if there is VNL, I can't see it. I did use thicker coats though, so I don't think there would be VNL (take that with a grain of salt). The polish dries to a semi matte texture, so be sure to add topcoat to get a shiny and smooth manicure. Also, apply this polish slowly, as it does have a thin formula that can go out of your control is you aren't careful.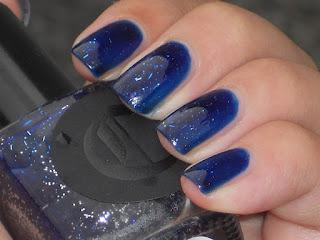 I have a tendency of applying nail polish to my nails before the last coat is completely dry (the moment I finish painting one coat on one hand, I add a second coat on the same hand), which sometimes creates bubbling depending on the formula of the polish (some topcoat takes care of that problem). Tibetan Nights didn't bubble at all on me, so I'm pretty happy about that, though I still used topcoat because I wanted the polish to be shiny. You can't win everything.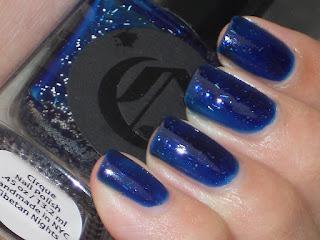 I'm a fan of the color and of the brand. Tibetan Nights is a gorgeous and unique color that positively glows. Cirque nail polishes can be purchased here for $12 (Duochrome, Glitter, Shimmer) and $16 (Holographic). I'm definitely planning on getting more polishes from this brand. I'm eyeing Potosi, Devris, and French Roast, though I have the strangest feeling that I'll get the entire collection. Decisions, decisions...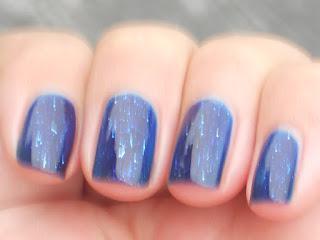 Oh! Before I forget, here's a blurry picture... Shows how pretty the glitter is, and how awesome the polish looks when it is shiny <3