I'm a collector of baked oatmeal recipes of all kinds, and completely fun plates.
As a child, my mom would serve bowls of oatmeal with brown sugar and milk, or cream of wheat topped with real butter, sugar and cinnamon.
I loved the oatmeal, and can still picture Mom stirring oats at the stove.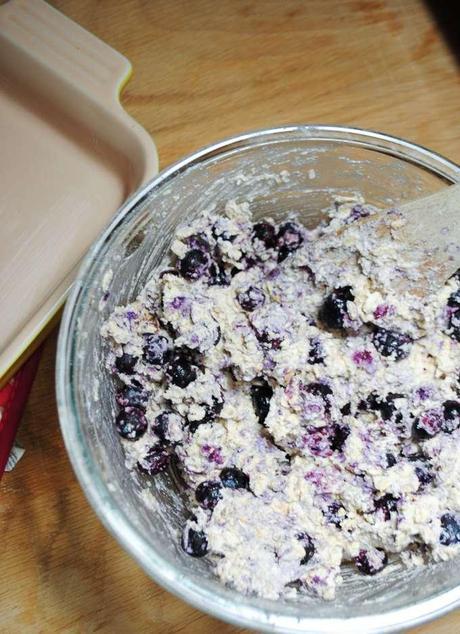 But these days, I opt for baked oatmeal for a variety of reasons.
I'm a fan of adding as much nutrition as I can to my breakfasts, and baked oatmeal bars are the perfect vehicle for a protein packed, healthy fat, antioxidant rich start to my day.
And they're completely portable!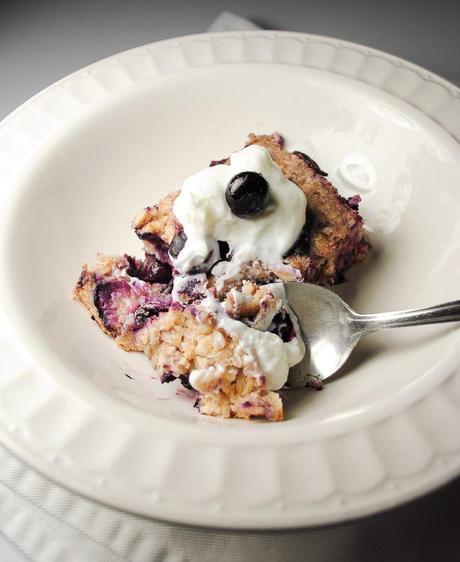 I add
egg whites for a low fat protein
, a touch of coconut oil as a healthy fat, and
blueberries for a punch of antioxidants.
And the beauty of baked oatmeal bars is that you can add all kinds of healthy ingredients. Imagine these bars with strawberries, raspberries, chopped apples, dried apricots, or chopped walnuts.
Sounds great right?
But don't forget to make a creamy pot of oatmeal on the stove every once in awhile. I love that warm and fuzzy feeling of happy memories.
Thanks Mom!
~Kristi

Cinnamony Baked Oatmeal with Blueberries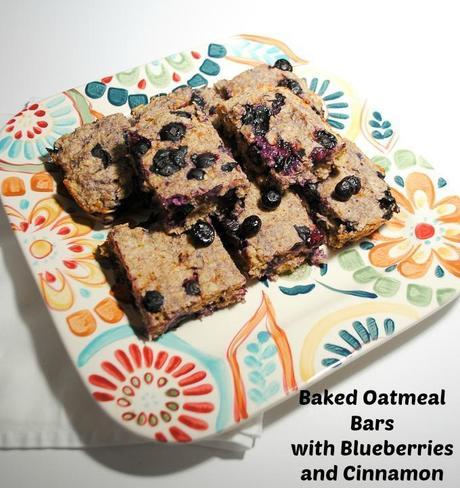 Save
Print
Prep time 10 mins Cook time 30 mins Total time 40 mins   This easy baked oatmeal can be made ahead, then kept in the refrigerator to be reheated during the week for a delicious quick meal. Author:
Kristi RImkus
Recipe type:
Breakfast, Oatmeal
Serves:
8
Ingredients
10 ounces lowfat vanilla Greek yogurt
2 large egg whites
½ cup water
¼ cup cocoa nut oil, melted
2 cups oats
¼ cup whole wheat pastry flour
1 teaspoon baking powder
1 teaspoon cinnamon
1 ½ cups frozen blueberries
Instructions
Preheat the oven to 350 degrees. Spray a square baking dish with cooking spray.
Combine yogurt, eggs and water in a large bowl. Whisk to combine, then drizzle in melted coconut oil, stirring well to combine.
Add oats, flour, baking soda and cinnamon to the bowl and combine well.
Fold in blueberries.
Press into the baking dish, and bake for 30 minutes until a toothpick inserted in the center comes out clean.
Notes Food energy: 195kcal
Weight Watchers PointsPlus 5
Saturated fatty acids: 6.43g
Monounsaturated fatty acids: 0.95g
Polyunsaturated fatty acids: 0.72g
Total fat: 8.10g
Calories from fat: 72
Cholesterol: 1mg
Carbohydrate, by difference: 25.24g
Total dietary fiber: 3.24g
Protein: 6.02g
Total lipid (fat): 8.93g
Water: 77.52g
Ash: 1.31g
Total sugars: 7.71g
Calcium: 111mg
Iron: 1.24mg
Magnesium: 67mg
Phosphorus: 169mg
Potassium: 192mg
Sodium: 99mg
Wordpress Recipe Plugin by

EasyRecipe
3.2.2925
email
Please like & share: