Hey There:
Last week on Cinco de Mayo day, instead of heading to Old Town or any Mexican bar/restaurant and getting tipsy, I decided to have a classy evening at
Wine Vault Bistro
with Bree and another friend. My good intentions didn't matter, I still got tipsy.
The good thing about it is that our conversation was very interesting, just imagine it, three women in their 20's, 30's and 40's comparing dating experiences. We had a blast. The bad thing is that by the time I was in the middle of my first margarita (that is, after a shot of tequila and some beer) I didn't appreciate the food as much as I would have wanted.
Here's the line-up of the 10-Course Cinco de Mayo Margarita Fiesta dinner
1. Baja Shrimp Tostada | Avocado Mousse | Habañero Relish | Chicken Crackling
~ and ~
2. Sangrita Consommé | Local Cucumber | Cilantro Sprouts
served with:
Diego Santa Añejo Tequila
note:
I don't do Tequila shots, so I started by sipping it carefully and then took the plunge, the Sangrita Consomme was served to be a chaser and it was perfect, now I understood the Tequila appeal.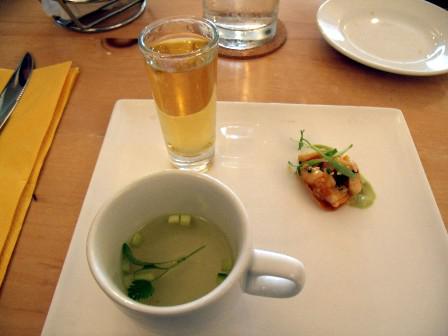 Baja Shrimp Tostada, Sangrita Consome, Tequila
3. Stuffed Squash Blossom | Chile Verde | Cotija Cheese
~ and ~
4. Chicharones | Harissa | Lime | Fleur de Sel
served with:
Cucapa Pale Ale
note:
This beer comes from Mexicali's only micro brewery and the name Cucapa refers to the Native tribes located in Baja and Arizona. Really good beer!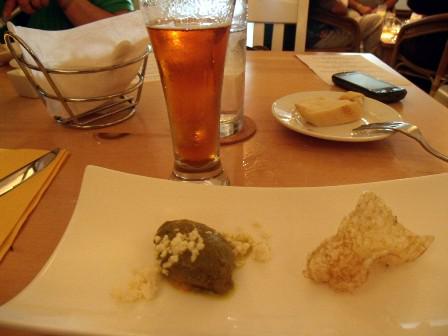 Stuffed Squash Blossom, Chicharon, Cucapa Pale Ale
5. Fried Avocado | Chipotle Aïoli | Braised Pork Cheek | Passionfruit Vinaigrette
~ and ~
6. Carnitas Street Taco | Pico de Gallo | Jalapeno Tortilla | Queso Fresco
served with:
Yucatan Tropical Fruit Margarita
note:
This was my favorite Margarita, so I can't blame the blended drink for what it did to me. This is when I started loosing the concentration on the food.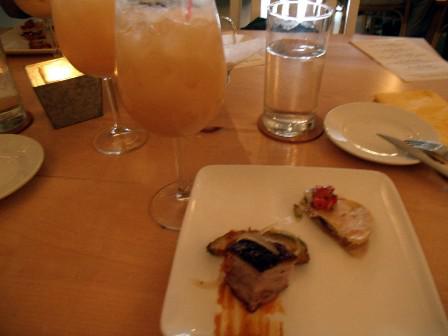 Braised Pork Cheek, Carnitas Street Taco, Blended Margarita
7. Chipotle Braised Short Ribs | Charred Onion Purée | Pepper Chutney
~ and ~
8. Hanger Steak | Pepita Mole | Marble Potato Hash | Bacon Braised Greens
served with:
Classic Hand-Shaken Margarita
note:
OK, so this one contained five different liquors and fresh juices. Really good and by this time we were very happy. I seem to remember we loved the Short Ribs too.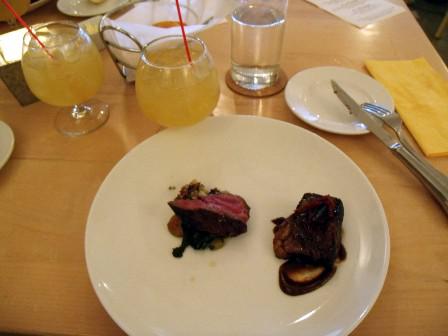 Chipotle Braised Short Ribs, Hanger Steak, Hand-Shaken Margarita
9. Churro con Chocolate | Mayan Spices
~ and ~
10. Tres Leches | Horchata Ice Cream | Dulce de Leche
served with:
Chris' Famous Mexican Coffee
note:
Even the coffee had liquor! No matter, we still drank it all, at this point can't tell you if the dessert was good, but I can say the coffee was great!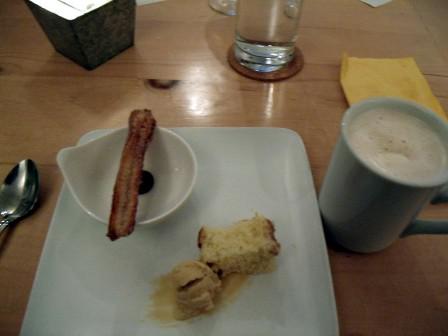 Churro con Chocolate, Tres Leches, Chris' Famouse Mexican Coffee
Afterwards, we were a bit tipsy to drive, so we went to Shakespeare's pub to have a pot of tea and continue with the interesting conversations. The added bonus of the night was that we sat in the booths overlooking the kitchen serving door (where the servers pick up the food) and we kept seeing this handsome cook. He was hot,  with brown skin, muscular and traces of either Native American, Hawaiian, or Pacific Islander. Awesome Eye Candy!
This turned out to be one of the best Cinco de Mayo's!