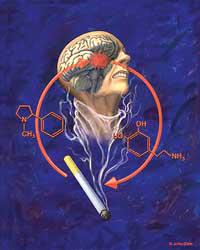 Addiction expert calls for reduced-nicotine tobacco.

For years now, nicotine researcher Neal Benowitz has been a man on a mission. Dr. Benowitz, a professor of medicine at the University of California in San Francisco, has been pushing a Big Idea about how to eliminate cigarette smoking in America: Reduce the amount of nicotine in cigarettes.

In essence, Benowitz is calling for a national nicotine taper. Whether the FDA is interested remains an open question. But the result, several years down the road, would be a nation of teenagers confronted with only weakly addictive tobacco products.

It is an old idea, often viewed with great suspicion because of the failure of "light" and "low-tar" cigarettes to reduce nicotine intake, and in fact causing smokers to smoke harder. But Benowitz, one of the nation's premier tobacco scientists, believes that when it comes to the roughly one out of five Americans who still smoke, a new generation of so-called "low-nicotine delivery" cigarettes is the answer. 

In a controlled study of 135 smokers of various ages, participants smoked cigarettes with progressively lower nicotine over a two-year period, and did so "without evidence of compensation"—meaning that they did not smoke more cigarettes or smoke differently when using the low-nicotine offerings. This varies dramatically from the behavior associated with light cigarettes and special filters—innovations that were marketed as "safer" cigarettes—that simply increase ventilation. The light cigarettes themselves contain the same amount of nicotine as a "regular" cigarette. And smokers quickly learn to puff harder, or cover small holes in the filter paper with their fingers, in order to extract more nicotine from each cigarette.


But with low-nicotine delivery cigarettes, you can't get more nicotine, no matter what kind of smoker's gyrations you perform. And the result, according to a paper by Benowitz and coworkers  in Cancer, Epidemiology, Biomarkers and Prevention, is that "when the nicotine content of cigarettes is progressively decreased at monthly intervals over 6 months there is a progressive decline in nicotine intake by smokers, with only a small degree of compensation at the lowest nicotine content levels."
The two-year study was randomized but unblinded, in order to simulate situations in which smokers are fully aware of using cigarettes with progressively less nicotine. A control group smoked their usual brands of cigarettes throughout the study. Benowitz, who led the studied, said in prepared remarks that the U.S. Food and Drug Administration (FDA) now has the authority to regulate the nicotine content of cigarettes sold in the U.S. (Benowitz is a member of the FDA's Tobacco Products Scientific Advisory Committee.) "The idea is to reduce people's nicotine intake, so that they get used to the lower levels, and eventually get to the point where smoking is no longer satisfying."

The study was small, and there were dropouts. As always, further long-term study will be needed to track smokers during this kind of long-term nicotine taper. Traditionally, tapering has not been an effective method of breaking a nicotine addiction. But the reason for that may have to do with the easy availability of full-strength cigarettes in every store and gas station. The obvious goal for Benowitz is the reduction of nicotine in cigarettes to the point where they are no longer addictive. But would a robust black market in strong cigarettes leap up if nicotine reduction were a federally mandated program?
"Progressive reduction of the nicotine content of cigarettes as a national regulatory policy might have important potential benefits for the population," the authors write, adding that "some people who had no intention of quitting upon entry into the study had… either quit spontaneously or were thinking about quitting in the near future after smoking reduced-nicotine content cigarettes." Low-nicotine cigarettes could be produced by extracting nicotine from existing tobacco, or by genetically engineering tobacco with a lower nicotine content.

"Adolescents initiate smoking for social reasons, with friends, and later begin to smoke for pharmacologic reasons related to dependence," the authors conclude. "Presumably a cigarette with very low nicotine content would be less likely to support the transition from social to dependent smoking, although the threshold level of nicotine to prevent this transition is not yet known."
Benowitz NL, Dains KM, Hall SM, Stewart S, Wilson M, Dempsey D, & Jacob P 3rd (2012). Smoking behavior and exposure to tobacco toxicants during 6 months of smoking progressively reduced nicotine content cigarettes. Cancer epidemiology, biomarkers & prevention : a publication of the American Association for Cancer Research, cosponsored by the American Society of Preventive Oncology, 21 (5), 761-9 PMID: 22354905

Photo Credit: http://chronicle.uchicago.edu