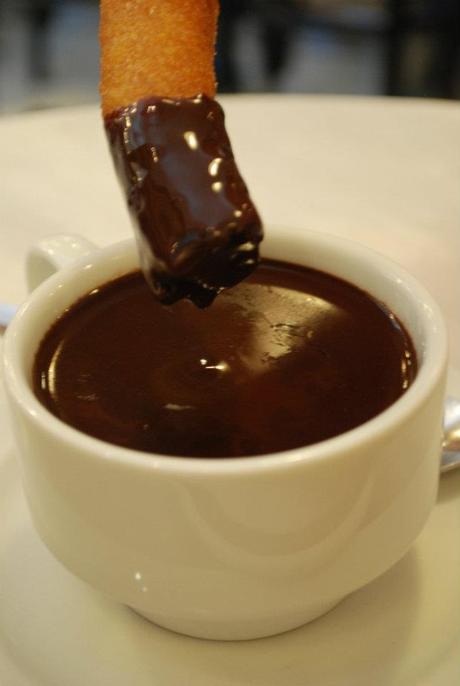 One of the things we were most looking forward to about our recent trip to Spain was devouring churros con chocolate.  Fried to crisp perfection and served alongside rich dark chocolate, these are not your soggy elementary school cafeteria churros bathed in achingly sweet cinnamon sugar. No, these are grown-up churros. Everyone has their opinion on who makes the best churros and who makes the best chocolate, so we were eager to set the record straight on this matter while we were in Spain. The title of best churros con chocolate would be decided in a battle, a battle where only the best, crispiest churros and deepest, darkest chocolate sauces come out alive.  This is Churros con Chocolate Death Battle Royale!
Madrid seemed to be the epicenter of the churros con chocolate phenomena, so we decided the battle would take place there. The contenders? Restaurante Hegar, Chocolateria San Gines, and Valor.  Three go in, but only one can come out the victor of this death battle.
Contender #1 - Restaurante Hegar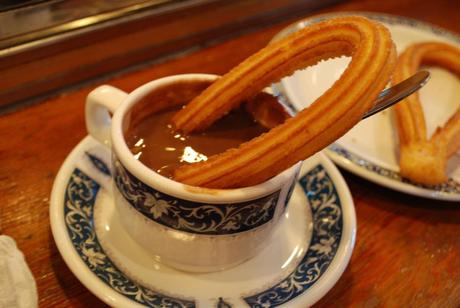 We went in here on a whim, just a few hours after arriving in Spain. Located in Plaza Mayor, we didn't really have high hopes for the churros here.  But, we were tired, hungry, and cranky after the long flight from the states, and we hoped the churros would brighten our spirits. We did feel happy to finally be in Spain and finally munching on this revered snack, but that's about all we can say for this place. The churros had obviously been sitting around for a while and lacked crispness, and the chocolate was super sweet. These churros con chocolate were clearly not going to win the death battle.
Total Cost - 3.10 Euro for four churros and a cup of chocolate.
Contender #2 - Chocolateria San Gines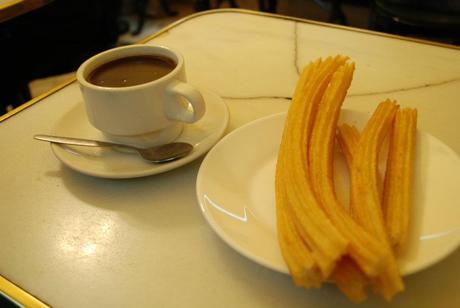 This is the mecca of churros con chocolate- nearly every guidebook and review praises it- so we were excited to see how it would fare in the death battle royale. We actually stumbled across San Gines a few minutes after eating at Restaurante Hegar, which posed a brief dilemma. Should we become complete and utter gluttons for the sake of Churros con Chocolate Death Battle Royale? Without hesitation we proceeded to walk across the threshold of San Gines. It's in the name of science, we told ourselves. And death battles. We ordered and then descended to the basement to wait, eyeing all the other churros and chocolate orders around us. The smell was intoxicating. Pretty soon the churros and chocolate arrived, and without even taking a bite we knew they had a chance at winning the death battle royale: the churros looked hot and fresh, and the chocolate looked thick and rich. Our first bite confirmed this. The churros were perfectly crispy; we could tell they had been fried just moments before they arrived at our table.  The chocolate was indeed rich and heavenly and the churros looked incredibly sinful when dipped in it. I had no shame in sipping the leftover chocolate directly from the cup.  San Gines was indeed a top contender in this death battle royale.
Total Cost - 3.70 Euro for six churros and a cup of chocolate
Contender #3 -  Valor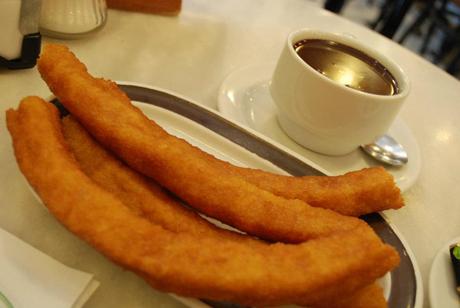 The final contender was Valor, a popular eatery with locations throughout Spain. Despite being famous for their chocolate, we found the chocolate to be sweeter and less appealing than the chocolate at San Gines. The churros they serve are actually porras, which have a much lower surface area to volume ratio than regular churros. There was just too much interior 'dough' part for our tastes. That being said, everything here was good, just not exceptional.
Total Cost - 3.95 Euro for four porras and a cup of chocolate
The Final Verdict
Restaurante Hegar was easily knocked out in the first round. Valor put up a good fight, but in the end, the winner was clear: we declare San Gines the victor of Churros con Chocolate Death Battle Royale!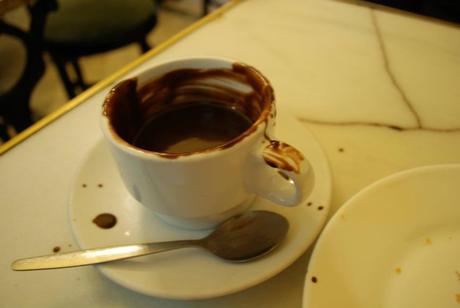 Enjoy great savings off your travel flights and accommodation worldwide with these Thomas Cook Vouchers. Alternatively if you are looking for a cheap last minute holiday look no further than LowcostHolidays with these Low cost Holidays discount codes.