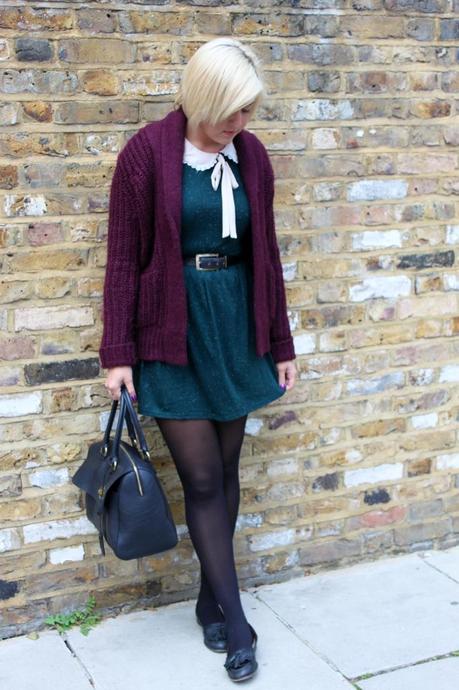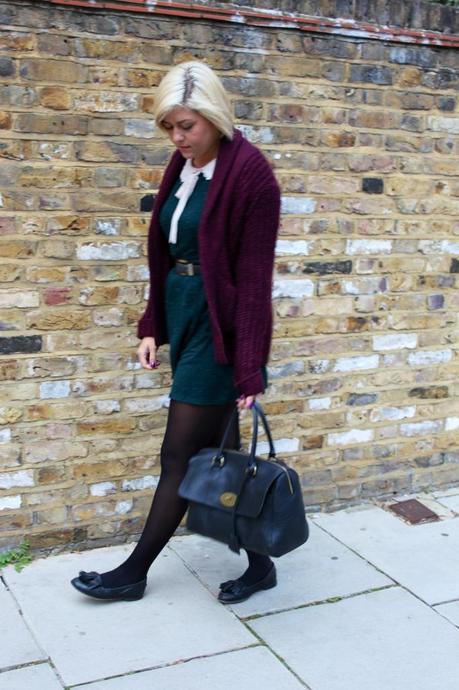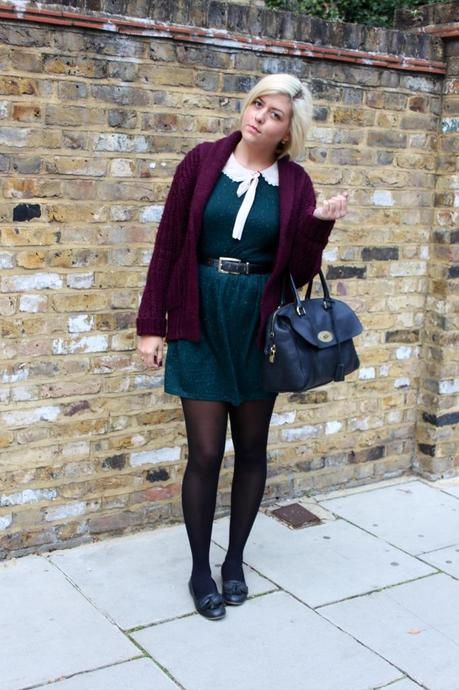 what i wore
cardigan - new look
collared top - new look
dress - topshop
belt - vintage
loafers - topshop
bag - mulberry
Do you ever picture in your head an entire outfit, only to realize that aside from shoes and accessories, you own nothing from said outfit? That's exactly what happened to me when I was planning an outfit for a day of shopping in London for my birthday. When fashion and function are in the boxing ring, I've always been in the corner of fashion. Though from years of experience, ten hours walking around London in heels will only put in you in the ring with bad back, sore feet, blisters and a terrible attitude.
I made a quick dash to my local retail park on a serious hunt for what I was after. I had an idea in mine of a jersey peter pan collar dress, I settled instead for this speckled t-shirt dress from Topshop, initially I wanted all three colours but I don't really have anything in this bottle green color and its becoming a particular favorite of mine this autumn/winter and layered it over a collared blouse I picked up in New Look for £14.99 I can't currently find it online, though I've seen it in stores still. Its a red a-line blouse, with no sleeves and a cream collar and neck tie. I really wanted a new winter coat as well, though it seemed pointless to buy a new outfit just to cover it up with a beautiful coat, so this is where this awesome chunky knit cardigan steps ins. Thick enough to keep me warm and still allows my outfit to be seen. Paired with my much loved comfy Topshop loafers, vintage belt and my amazing Mulberry that I just can't get enough of (thanks again Daniel!) and big enough to fit my kitchen sink in! 
Who knew fashion could be functional?
- TWITTER - FACEBOOK - TUMBLR - BLOGLOVIN' - LOOKBOOK - HELLO COTTON -
"believe in yourself"