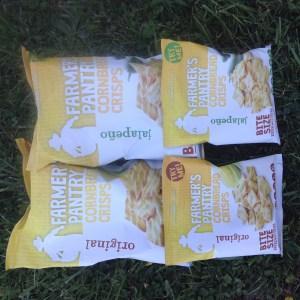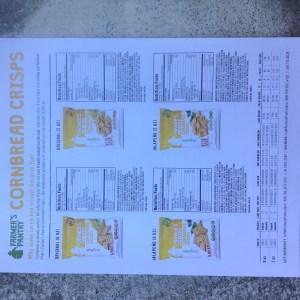 I was recently sent these amazing snacks from Farmer's Pantry. I am a huge fan of salty snacks and these are seriously so delicious. I love how you can really taste the corn. They are unlike anything I have ever tried and I am obsessed. I was just so impressed with how fresh these crisps taste. I feel like I am in a corn field eating the best corn of my life with every single bite. I highly recommend trying these because you seriously will be hooked. I look forward to having this snack all the time!
ABOUT COMPANY:
Farmer's Pantry, the proudly American new snack brand, debuts the first in its line of exciting new snacks: Farmer's Pantry Cornbread Crisps.Farmer's Pantry Cornbread Crisps are a revolutionary product - the first cornbread cracker snack to hit the market. Perfect to "feed your hunger," these snacks are great for kids and adults alike asthey offerasatisfying, healthy and natural snack that is as innovative as it is delicious. Farmer's Pantry snacks are always made in America with ingredients you would only find in a farmer's pantry and always grown on U.S. family farms. These delicious snacks are perfect anytime during the day, for travel, hikes or to pack in your gym bag or purse.
Farmer's Pantry Cornbread Crisps, available in Original and Jalapeno flavors, are a crispy, savory snack that tastes as mouth-wateringly delicious as the first bite of a slice of corn bread or corn muffin. Made from fresh corn and other whole grains grown on American farms, these crisps are sure to appeal to discriminating snackers across the country.
Farmer's Pantry snacks are hitting the market at exactly the right time to make a difference. According to a recent 490 person Nielsen poll, most said they "enjoyed" eating all the time. After enjoyment, the second most common reason Americans cite for eating a snack in the past 30 days is "to satisfy hunger" in between meals.1 Another 30,000 person Nielsen poll cited that 90 percent of people surveyed said that they snack at least once a day, and a full 45 percent of people actually replace at least one regular meal a day with snacks.2 And finally, according to analysis by Euromonitor, sales of snacks account for 40% of the $370 billion U.S. packaged food market and are set to grow 2% annually through 2019, thanks in large part to millennials who eat more snacks than any other group.3
"Farmers Pantry Cornbread Crisps are truly the best thing since sliced bread!" said Josh Chaitovsky, co-founder and CEO of Farmer's Pantry. "We believe it's high-time for snacks to resolve the trade-off between being wholesome, made from natural ingredients and delicious. But to be truly sustainable, we also pledge to give back to our American farmers, and to hungry Americans in need, by supporting important charities such as Veterans Farm, Farm Aid, and The Family Farm charities."
Farmer's Pantry Cornbread Crisps are available in Original and Jalapeno flavors, in two sizes: 6-ounce bags of regular size Cornbread Crisps and 2-ounce bags of bite-sized Cornbread Crisps. Perfect for supermarkets, mass market retailers, airport stores, and convenience stores, Farmer's Pantry Cornbread Crisps are available in 12 per case, and will retail in the $3.99 range for 6oz bags, and under $2.00 for 2oz bags.
Farmer's Pantry creates hearty, tasty American snacks from freshly grown vegetables sourced on local American farms. Cornbread Crisps are the first of their incredible line of innovative, healthy snacks that are sure to "feed your hunger." Visit Farmer's Pantry online at www.farmerspantry.farm.