Chuan Spa at the Langham Place, Mongkok Hong Kong, sits atop of the 42 levels of hotel accommodation and dining facilities below, Your eyes are drawn over the sprawling city that is Hong Kong Island and Kowloon, a rare site offered by any global spa. When looking for a true Asian spa experience TCM (Traditional Chinese Medicine) for spa enthusiasts can be a step into healing and wellness through the hands of a therapist with an expert background in TCM. At Chuan Spa meet Rain your TCM expert, her interest in TCM started at the age of five, listening and observing both her parents who are TCM experts from China.
Chuan Spa a healing journey with TCM – Langham Place Hotel
Chuan Spa a healing journey with TCM
For myself I am not a big fan of massage, I choose TCM to address so issues that I felt could not be addressed with Swedish massage. Since an accident to my arm that happened in South America, and the drug routine that I was placed on when returning home to New York, I found over a period of time my body was retaining a lot of water.
A consultation with Rain, allowed me to identify that I felt water retention had been an issue. Rain asked some questions (I did not mention this injury) she explained we would work on the head, the chest and on some of the lymph glad areas where I was experiencing swelling.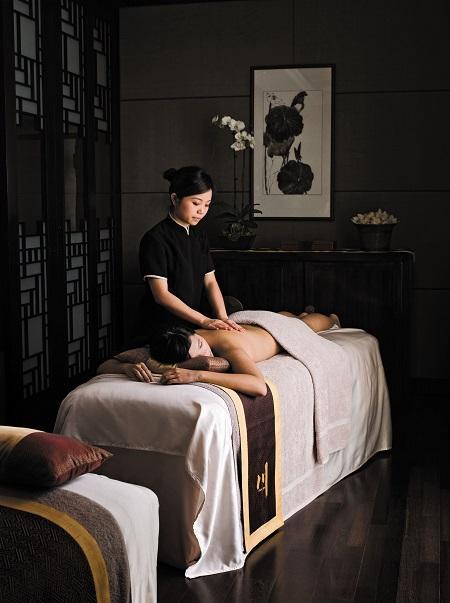 Chuan Spa a healing journey with TCM – Spirit Room
TCM massage is deep, really deep it is closely related to acupuncture in its use of the meridian system and is considered to be effective for a similar range of health problems. It is an effective and comprehensive therapy and is regarded alongside herbs, diet, qigong and one of the fundamental arts of Traditional Chinese Medicine.
Chinese techniques were imported to Japan and eventually gave rise to Japanese Shiatsu. Later still Peter Henrik Ling learned from Chinese masters before developing Swedish massage the origin of Western bodywork.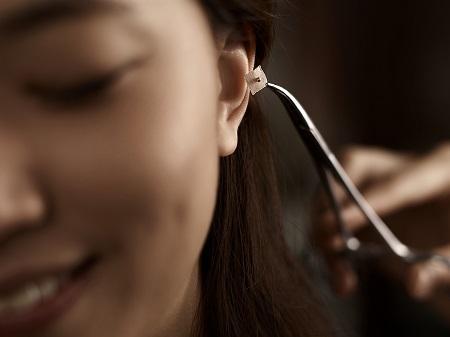 Chuan Spa a healing journey with TCM – Ear Auricular Therapy
Chuan Spa a healing journey with TCM
To regain the energy flow requires deep work on the lower muscles, that felt very different to a Swedish massage, Rain could identify from her massage technique, issues I had from previous accidents, 1) My arm dislocation at the elbow 2) Torn cartilage on the left knee due to accident on a recent flight. Both areas were out of balance, and needed deep work to improve circulation, and restore the natural flow and balance to the areas.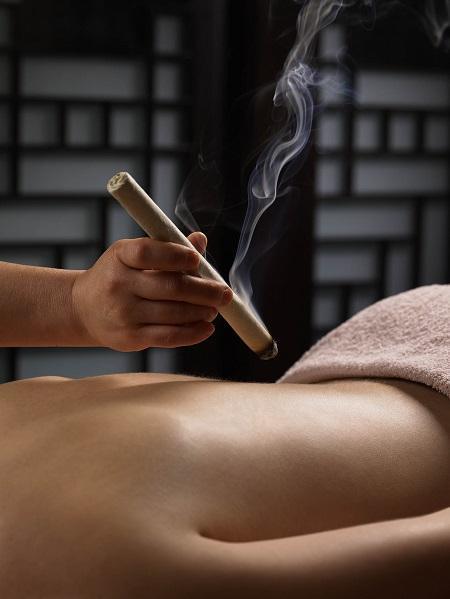 Chuan Spa a healing journey with TCM – TCM Moxibustion
As TCM encompasses many different practices, including acupuncture, moxibustion (burning an herb above the skin to apply heat to acupuncture points), Chinese herbal medicine, tui na (Chinese therapeutic massage), dietary therapy, and tai chi and qi gong (practices that combine specific movements or postures, coordinated breathing, and mental focus). My follow on therapy after massage was moxibustion.
Chuan Spa a healing journey with TCM
The heat from moxibustion is very penetrating, making it effective for impaired circulation, cold and damp conditions, and yang deficiency. When applied to acupuncture point's specific for yang deficiency, the body absorbs the heat into its deepest levels, restoring the body's yang qi and "life-gate fire," the source of all heat and energy in the body. I found this wonderful, on the left side where I had the  indirect moxa, the "moxa wool" is was placed into a very unique flat container which is lighted and held about an inch away from the desired area — an acupuncture point or other area of the body is chosen by the therapist. For example, indirect moxa might be applied to a swollen, stiff area such as an arthritic joint.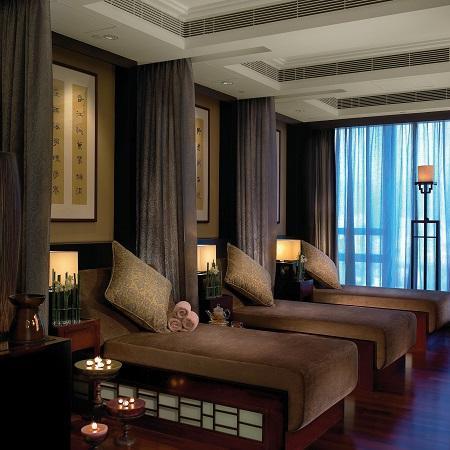 Chuan Spa a healing journey with TCM – Relaxation Room
The heat taken into these points raises the body's metabolism and immunity, so moxibustion at these points can also be used in preventive health care. I found that at the larger lymph areas on my left side the heat was more intense, as my system was out of balance. But the swelling in the areas where I had problems slowly reduced after the treatment, I planned to improve my health with TCM and incorporate Chinese medicine to help with my kidneys. Rain advised that after TCM, you need ideally sleep; at the Chuan Spa they have some of the best relaxation room and beds that offer comfort, support and unbelievable views over Kowloon. Tea and fruits are served, and you will drift off for a while so plan to rest and recover in true spa style.
Langham Place Hotel,  MongkokA 555 Shanghai Street, Mongkok, Kowloon, Hong Kong. T +852 3552 3388.