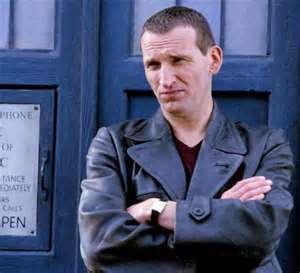 If you think my outfit is going to have even a slpash of color or quirkiness, you're crazy.
Put that leather jacket back in storage: Christopher Eccleston has reportedly turned down an offer to appear in the Doctor Who 50th Anniversary special episode.  Well, that's certainly not fantastic.  Eccleston was the 9th actor to play the role of Doctor over all, and the first to play the role when the show was revived in 2005 after having been off the air since 1989.  He left the show after only one season, the shortest stint for any actor in the role outside of Paul McGann, who only appeared in 1 TV movie.
The news of Eccleston's decision was first reported April 4th by UK paper the Daily Star, which claimed Eccleston had pulled out of the episode even though  filming is scheduled to begin shortly.   A day later an unnamed BBC source told Digital Spy:
"Chris met with Steven Moffat a couple of times to talk about Steven's plans for the Doctor Who 50th anniversary episode. After careful thought, Chris decided not to be in the episode. He wishes the team all the best."
Basically, you have a tabloid-leaning newspaper saying Eccleston really screwed over the Doctor Who producers by pulling out at the last second, and an unnamed source from the BBC contacting a more trusted source to confirm Eccleston's lack of involvement with the explanation that passing on a project and pulling out are two very different things.
Regardless of how much stock you want to put into this story, the notion that Eccleston would decline the opportunity to come back is in no way surprising.  In fact, the idea of him even having a conversation with Steven Moffatt about it is more surprising.  Why?  Frankly, it's never been entirely clear if Eccleston even likes Doctor Who.  In 2005, he admitted that he had not been a fan of the show as a child because "[The Doctor] seemed like an authority figure.  I felt a bit patronized by him."  Since leaving the Doctor Who after one season, he has not often discussed the show  nor has he typically attended fan conventions or any such Doctor Who-related events.  One gets the impression that his role as the 9th Doctor was just something he did between 2004 and 2005, and then he moved on to the next thing, a path which has ultimately led him to the role of one of the main antagonists in this Summer's Thor 2: The Dark World.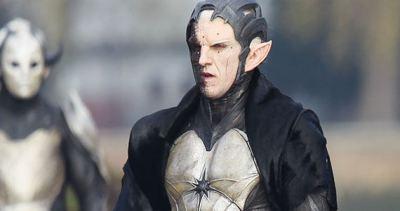 Eccleston as Malekith from the set of Thor: The Dark World. No, that is not a Cyberman in the background. Photo credit: Screenrant.com
Plus, his somewhat recent explanations for why he left the show are just confusing.  The old explanation that he had always only intended to do one season and there was no drama may only be partially true, especially that drama part.  At a 2011 speaking engagement at the Theatre Royal Haymarket, he had this to say when asked why he left:
"I left Doctor Who because I could not get along with the senior people. I left because of politics. I did not see eye-to-eye with them. I didn't agree with the way things were being run. I didn't like the culture that had grown up around the series. So I left, I felt, over a principle."  He concluded, saying "My face didn't fit and I'm sure they were glad to see the back of me. The important thing is that I succeeded. It was a great part. I loved playing him. I loved connecting with that audience. Because I've always acted for adults and then suddenly you're acting for children, who are far more tasteful; they will not be bullshitted. It's either good, or it's bad. They don't schmooze at after-show parties, with cocktails." [BadWilf.co.uk]
Huh?  And it turns out he said something similar in 2010, during an interview with the BBC.  From that, one might conclude it was not the show nor his performance in it but everything else surrounding the show that turned him away.
Of course, Christopher Eccleston was my first Doctor.  I first came to the revived version of the show in 2008, after he had departed, but I started from the beginning via DVD box sets.  Unlike some, I knew going in that his Doctor would re-regenerate at the end of the show's first season and be replaced by that scrawny guy (David Tennant) who inspired such longing in my best friend that I would be made at times uncomfortable at her tendency to say his name, trail off, and stare off as if she were a sitcom character engaging in a fanciful daydream.  Where did she go, I wondered.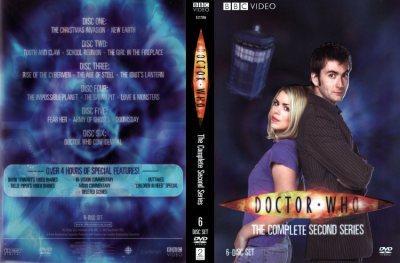 How did I know Eccleston was gone after 1 season? Well, the Season 2 DVD box-set cover featuring Rose with some other guy was a pretty big clue.  Plus, my best friend told me, but this cover was still a huge clue.
However, being forewarned about Eccleston's forthcoming (for me at least) exit served to fuel my anger as I became increasingly enamored with his performance.  I had no real familiarity with the lore of Doctor Who.  He was the first one to make me believe in an alien with two hearts who travels through time and space inside a spaceship which is bigger on the inside and looks like a police phone box on the outside.  Anything I initially thought to dismiss Eccleston made real and relatable.  A Dalek was one of the goofiest things I had ever seen.  However, Eccleston's immense fear at the sight of it difused my instinct to mock and instead invited me into a fascinating story with a rich history.
I have since come to learn how much Eccleston's Doctor displayed the same love for adventure as prior Doctor's, with a signature catchphrase of "Fantastic!" always delivered with joy.  However, his cheek to cheek grin belied the deeply troubled psyche of a man fresh from having committed mass genocide during an intergalactic war.  It was only through his relationship with companion Rose Tyler (Billie Piper) that he was able to heal himself.  I loved it.  I partially hated loving his Doctor because I knew it meant it was going to hurt so much more when he abruptly re-generated, and I was right-it did hurt.  He utters one last "Fantastic!" and then he's gone.
Then David Tennant came along, and I hated him.  He wasn't my Doctor.  He was just so…different.  Then I'd appreciate a line reading here, or a great physical comedy gag there.  Cut to the present and David Tennant is probably my all-time favorite Doctor, although Matt Smith might be tied with him at this point.  However, Eccleston was my first.  I am ecstatic that Tennant is coming back for the 50th, yet I'm not really saddened to hear that Eccelston won't be involved.  I never thought him coming back was remotely possible.  This simply confirms that.  Moreover, I think the knowledge that his appearance in Doctor Who again would mean way more to us than it would to him would somehow affect my enjoyment of it all, sort of like how it's hard to care about Chevy Chase's character on Community right now knowing how much he hates the show.  Eccleston's situation is obviously nowhere near as severe, though.
I leave with one of my all-time favorite Eccleston moments from Doctor Who.  He stares down the Dalek empire, and simply through an impassioned speech he is able to scare the living hell out of them.
What do you think?  Do you hope Eccleston changes his mind and comes back?  Or have we all moved on at this point?