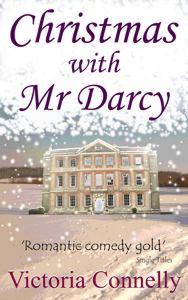 Christmas is a time to spend with the people we love, a time for shameless  sentimentalism and bittersweet   memories, a time for caring and sympathy.  Can it also be the right time for romance? The answer is yes, if you've found your Mr Darcy.
I know, I'm definitely turning into an incurable romantic while growing old. Is that the reason why I swiftly went through the little more than two hundred pages of Christmas with Mr Darcy with a blissed smile printed on my face?
Christmas with Mr Darcy
is a light-hearted, delightful  novella, Victoria Connelly has recenlty published as a  sequel to  her A Weekend With Mr Darcy , The Perfect Hero (or Dreaming of Mr Darcy in the US version) and Mr Darcy Forever . I read the three of them with the same foolish grin mentioned above,  it means I simply loved them all. They are all brilliant Austen-inpired modern romances full of references to Austen beloved works and all the dreamy places connected to her life and novels. Delightfully written with a light touch on reality, irony,  and skillful characterization, they find a proper sequel in Christmaswith Mr Darcy
.
In  Victoria Connelly's latest indie publication  all the heroes and heroines of her  Austen Addicts' Trilogy gather together to celebrate Christmas as well as their favorite author, Jane Austen. The great reunion takes place  at Purley Hall in Hampshire because renowned actress, Dame Pamela Harcourt, is holding a special Jane Austen Conference.
Christmas is being celebrated in style and everybody's there: Katherine and Warwick, Robyn and Dan, Kay, Adam and Gemma, and Sarah and Mia. But, when the rare first edition of Pride and Prejudice Dame Pamela has recently bought goes missing, the guests have to forget the fun and games and turn detective...
The fun and games? Team contests, meetings with the cast of recent adaptations, watching Austen movies or series and discussing them among others. Those discussions were great fun to me: to read  what  Austen fans have to say after watching the movies or series scheduled at the Conference was like watching me and my Janeite friends in a mirror. The lady guests  start talking animatedly about who the perfect new Mr Knightley , Mr Darcy or Captain Wentworth may be: Richard Armitage? (below on the right)  Henry Cavill? (below on the left) Well, it was as if  Victoria had turned  us members of  the enthusiastic community of Austenites into characters of her book (me included!) and our chatterings  about Austen movies and favorite actors were tranferred from the online forums or from  our sitting rooms to the guests of the splendid country mansion.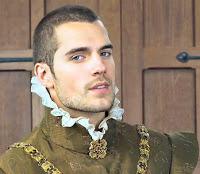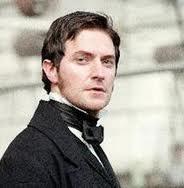 I also appreciated the addition of  a bit of mystery in the style of the best whodunnit novels.  There is no Poirot, no Miss Marple,  but the puzzling situation  is brilliantly solved by the lovely guests . Who's guilty of all the thefts taking place at the Conference?
Being snowed in is not a very pleasant situation in my personal experience ,  instead  the snowy landscape  adds  a  touch of fairy powder  to the story here. Would you mind being caught in in a wonderful mansion in Hampshire  with all the comfort  you need and in the best company you can wish?  I'm sure you wouldn't complain.  Especially after winning your own Mr Darcy and sharing the experience with him ,  as Katherine, Robyn or Kay do.
Grab your copy of Christmas with Mr Darcy and get ready to read it near the fire and under the Christmas tree.  I bet you'll love it.
******************************************************************
The author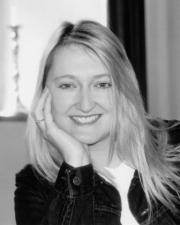 Victoria Connelly was brought up in Norfolk, England before moving to Yorkshire where she became a teacher. After marrying in a medieval castle in the Yorkshire Dales and living in London for eleven years, she moved to a cottage in rural Suffolk where she lives with her artist husband, a rescue Springer spaniel and a flock of ex-battery chickens.
She has three magical romances published in Germany and the first, Flights of Angels, was made into a film. Victoria and her husband flew out to Berlin to see it being filmed and got to be extras in it!
She also writes romantic comedies and her first, Molly's Millions, is about a lottery winner who gives it all away. She's  written a trilogy about Jane Austen addicts: A Weekend with Mr Darcy, Dreaming of Mr Darcy and Mr Darcy Forever 
The trilogy was followed by a novella sequel - Christmas with Mr Darcy - which is the book reviewed just above.
****************************************************************
Many grateful thanks to Victoria Connelly for my personalized review copy and for mentioning me in the acknowledgements opening the book. It made me blush. Still blushing. 
You can buy Christmas with Mr Darcy for yourself or for your Janeite friends as a Christmas present at amazon.com and amazon.co.uk
You can find my  reviews of Victoria's Austen Addicts Trilogy at My Jane Austen Book Club or on goodreads