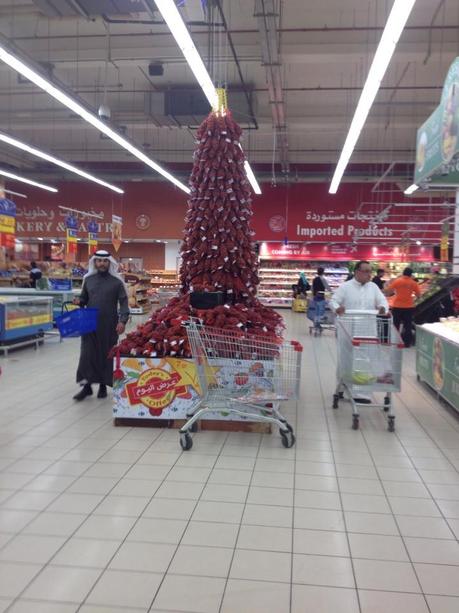 Photo sent by Mrs. Christiane Chahine, a Lebanese Expatriate living in Riyadh
As the
christmas
season started, a staff from a very famous super market (french brand) decided to celebrate christmas publicly in Riyadh!
Or at least do his own Christams tree from
onions and garlics
... Well better than nothing.
Many other trees were seen in many supermarkets also made from vegetables. I guess this staff sparked an inspiration for a christmas spirit!
Do you have photos of these trees around Riyadh or KSA? If you do, send them and will post them here!
Please, Don't attempt to do the same at your home, you will suffer the odor consequences.
P.S:
For those who don't know, celebrating christmas publicly in Riyadh or any KSA city is prohibited for religious reasons (legal punishments are also mandated). And all christians living in KSA respect these laws.
As a muslim myself, I believe that everyone has the freedom to celebrate and announce his own religion publicly. And as a lebanese, celebrating both religions' holidays, it is a cultural norm that we enjoy in Lebanon. And so no one should be offended when someone celebrate his own religious holiday.