She is finally done and I am so pleased with the way she has turned out. :)
Measuring aprox 11in tall she features glass beaded eyes, burlap wings and a variety of lace and trims throughout.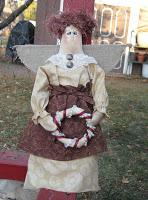 Hope this helps to set the season. :)
Tammy
For purchase information please PM me.