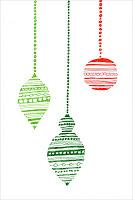 I made this Christmas ornament drawing using a set of fine tip markers. If you draw the edges of a shape lightly in pencil, fill in the inside with lines, and then erase the outside pencil, the look can be rather sophisticated.
1. Lightly draw three straight lines of various lengths from the top of the card, and then add the outer shapes of an ornament.
2. Fill in little circles for the chains, add sets of horizontal lines and shapes to fill each ornament. Erase all pencil lines.