Yep, it's really that time of year already, and if you're anything like me you've done the easy presents and are now becoming dimly aware that there are a whole bunch of other people left on the list who are really difficult to buy for. If those people happen to be rowers, you're home free. Following the success of my Christmas gifts for rowers last year, I've put together yet another set of fabulous ideas for the rowers in your life. Today it's the turn of the women rowers, and later in the week look out for ideas for men, juniors and coxes.
This year I've decided to include one extravagant idea in each list just, you know, in case, but to balance it out there are a few budget gifts in there, too.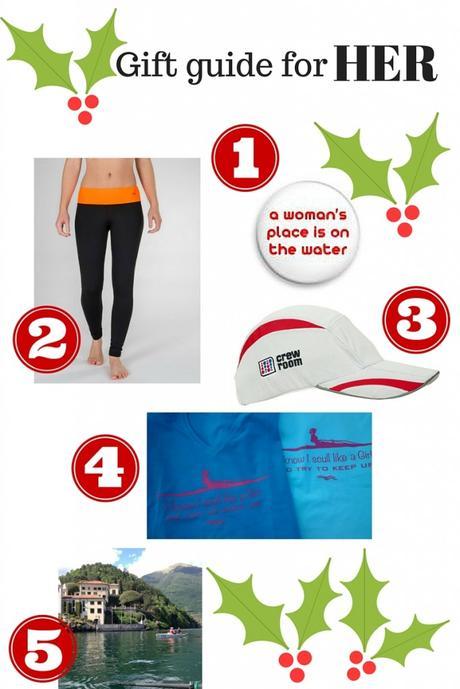 1. Woman's place badge, from RowCo, £1
So we're starting unashamedly at the budget end here, but how great is this badge? Because let's face it, why would you spend your morning cleaning the bathroom when you could be out on the water? Validate her life choices and save yourself money at the same time – what's not to love about that?
2. Daisy Dee leggings, from Queen B Athletics, €49, currently reduced to €37
You don't have to have spent much time on my blog to be aware that I'm an ardent fan of the queens of rowing kit, Queen B Athletics. It's hard to get across to you how desirable these leggings are. They're soft as newborn kittens and ridiculously flattering. They're also priced in euros so (even) cheaper than they seem. If you're not sure about sizes, give the girls a ring and ask them – they're really good at getting the sizing right. I promise you, she will love, love, LOVE them.
3. Vapour-X cap, from CrewRoom, £15
I'm fussy about caps, and CrewRoom quite simply make the best in the business. Most comfortable. Least sweaty. Most flattering. End of. And if she already has one, there's always room for another.
4. Scull like a Girl T-shirt, from Rock the Boat, £16
In case you can't quite make it out, this T-shirt reads: "I know I scull like a girl. DO TRY TO KEEP UP." Is there anything more to be said?
5. Rowing holiday with Rowing the World, from €1,195
Forget the hard work of a training camp – rowing holidays with Rowing the World are loads of fun. I reported on the Bellagio one for Rowing & Regatta this year (I know, I know, someone had to do it) – and I loved every minute. There's plenty of rowing in beautiful places, combined with proper holiday stuff like wine tasting and cooking. There's an excellent separate programme for non-rowers, too, so they won't be bored or left out when she's out on the water. Trust me, if you get her this, it will be the best present she's ever had. Ever.
So there you go. Christmas sorted. Until tomorrow, when I'll give you another great list.