Good Thursday morning readers. Today it has finally stopped raining here in gorgeous Boca Raton, and we're looking forward to the weekend. But before Friday rolls around, we're back with a second tidbit of big auction house news in as many weeks.
On Wednesday, Christie's New York auctioned off an incredibly rare, vivid fancy yellow diamond at its Magnificent Jewels auction. The 32.77 carat, VS2 pear shaped diamond realized a cool $6.6 million – over $200k per carat.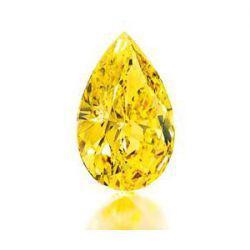 via JCK
Other top lots included a D colored potentially flawless oval-cut that weighs in 25.74-carats. This diamond ring by Graff sold for $3.8 million.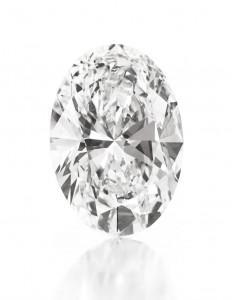 via JCK
Additionally, Christie's sold 3 3.21-carat, VS2, modified pear-shaped fancy vivid blue  diamond for $846,000 per carat ($2.7 million) and a 20.43 carat, D colored, VS1 rectangular-cut  diamond ring signed by Cartier sold for just over $2 million. Other notable Cartier pieces at the auction included an Art Deco "Tutti Frutti" Art Deco bracelet, circa 1930, for a record-setting $962,500.

via JCK
The auction raised a total of $46,599,650, and was deemed a success by Rahul Kadakia, the head of jewelry for Christie's Americas:
"Despite recent volatility in the financial markets, the jewelry world continues to hold strong with active participation from top private collectors and members of the trade for superb gems and jewels. At $201,000 per carat, the 32.77-carat Vivid Yellow Diamond achieved a sensational price, mirroring the $203,000 per carat realized by The Golden Drop of 18.49 carats at Christie's London back in 1990. Having set the stage for our fall season, we look forward to our November 16 jewelry auction in Geneva."
To read more about Christie's Magnificent Jewels Auction, click here.
Liz for Raymond Lee Jewelers, your source for jewelry industry news and jewelry auction updates.