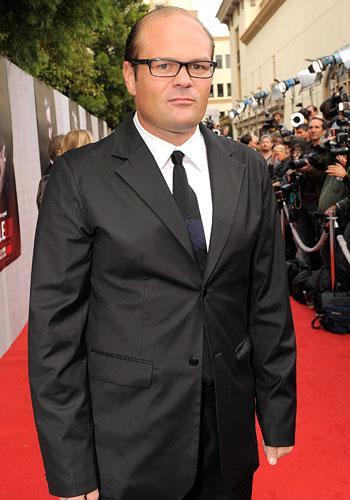 As fans of HBO's True Blood begin the countdown for the season premiere, we begin to wonder what is in store for this small town in swampy Louisiana. In a recent interview Chris Bauer, who plays Andy Bellefleur, talks about the new season, his "new" family, and whether or not he will be taking the "naked" plunge like so many of his castmates.
Family Ties:
At the end of Season 3, viewers saw sheriff Andy undergo some struggles that usually led him to a few bottles of beer at the local bar, Merlotte's. When asked if in Season 4 Andy would find other ways to cure his ailing, Chris proudly said that Andy would take things one day at a time. It is also known that this season will introduce his sister Portia, who is both beautiful and will also allow the viewers to see a different side of Andy. Seeing Andy as a family man and how he interacts with his sister, and the dynamic between the two of them will be very interesting for the viewers. Will Andy be ready to step up and take his town back under control? Is he ready to be a good sheriff? Says Chris:
"Andy IS a good sheriff.  Think about what's on his plate.  It's a supernatural smorgasbord.  The fact that Bon Temps' citizens lock their doors at night has nothing to do with the crime rate, which is probably relatively low considering that when the sun goes down, the place is a playground for the other world. Seriously though, one of the things I like about True Blood is how it plays with perceptions.  Andy's flaws have always certainly been out in the open, and that makes him an obvious target for scorn and criticism. But all in all, he's a full-on dedicated public servant.  He's very serious about his civic duty and does whatever he can to fulfill it, to the complete detriment of his personal life.  And his ego is entirely connected to his job performance.  It's certainly not in his fashion sense.  As far as I'm concerned, the fact that Merlotte's closes each night without a bar fight is proof enough that he's a good sheriff."
Boxers or Briefs:
If it were up to Chris Bauer there would be a new love interest in Andy's life this season, but sadly wishing it were true is not enough to actually make it happen.  The question was raised, as it is with most actors on True Blood, when will we see Andy in his skivvies. Chris wants to remind America that he is 44 years old!
"Does anyone really want to see that?  Though I'd welcome the chance to remind America what a real 44-year-old man looks like, I'd still have to be naked in front of strangers, wouldn't I?  And have you seen the gentlemen I work with?  If I didn't see them with my own eyes, I'd think they were computer-generated.  I work out five days a week, how come I still have a double chin? I guess that's beside the point. There are plenty of people who think I'm hot, and I've met them both personally. Bring it on, I'll show ya what I got."
He also wanted to say that if given the choice, he would most likely choose to be like Joe Manganiello. Joe plays the hunky werewolf Alcide that steamed onto our screens last season. Is there a limit to how many hunky guys this show can have?
Brotherly Love:
Chris discusses his other castmate Ryan Kwanten. He plays the dopey but extremely hot Jason Stackhouse. During last season, Andy and Jason were caught up hiding the fact that Jason shot Eggs, and Jason was using this tidbit to con Andy into a job at the Sheriff's office. According to Chris, the fact that Jason was the one who really shot Eggs is old news and won't be rehashed during season four, but the relationship between the two of them does grow.
"Andy's relationship with Jason is fantastic and authentic. They have chemistry but are very different folks, just like Ryan and I. So how it will develop is less clear than the fact that it WILL develop. They've always had a lot to learn from each other, and their roles reverse all the time. Both guys can surprise you, and it's one of the testaments to how good the writing on True Blood is that both guys do surprise you."
Things Yet to Come:
When asked if he will remain "human", he answered saying that he is going to take one for the humans and for now continue to battle the good fight staying human. Since most viewers have heard that this season will be focusing on witches, it is good to know that no matter what type of crime there is out there Andy will not be far. He does say that this is the season that he has so far loved the most mainly because of the surprises that are in store for viewers but also because there are some "funny and moving" parts to the writing. His most memorable moments on set:
"We work so much at night. There have been many nights over the last four years where it's been three in the morning and my cast mates and I are crowded around a space heater in the middle of a forest or back lot telling jokes and giggling like we were at a sleepover. Some of the people on the show – Carrie Preston, Sam Trammell – I've known for 10 or 15 years. We started together in New York. It's been really gratifying sharing this with them. Others like Michelle Forbes, Bill Sanderson, have been great company season to season. The people have been the highlight of this experience."
Well said Chris! We can't wait to see what Andy has in store for us this season. It is so exciting to say that we are almost to the month countdown of the True Blood season premiere on June 26th!
Sources: wetpaint-  Exclusive! True Blood's Chris Bauer Dishes on Sheriff Andy's Love Life and Nude Scenes
wetpaint- Will Sheriff Andy Turn Supernatural? True Blood's Chris Bauer Talks Season 4 – Wetpaint Exclusive!
(Photo Credit: HBO)