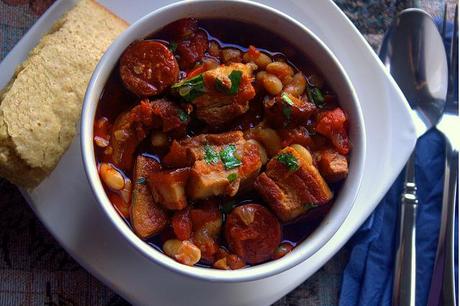 Farmers hide your piggies and vegans/vegetarians beware! This soup is all about the delicious, flavorful and juicy pig. Pig in 3 different ways: we have the Spanish chorizo (from wiki): Spanish chorizo is made from coarsely chopped pork and pork fat, seasoned with smoked pimentón (paprika) and salt. It is generally classed as eitherpicante (spicy) or dulce (sweet), depending upon the type of smoked paprika used. Then we have my favorite part of the pig, pork belly, and dry cured form of pork belly called Pancetta. However, I can not find Pancetta here to save my life (Friends/Readers in Germany help a mama out, bitte?) I asked another food lover which subsitute is best, and found that Bauchspeck is a great replacement. Like Pancetta, Bauchspeck is from the pig's belly and  then dried, cured, but unlike pancetta, is smoked. To compensate for flavor, the friend suggested that I add more garlic, chili flakes and nutmeg to the recipe. It worked a treat!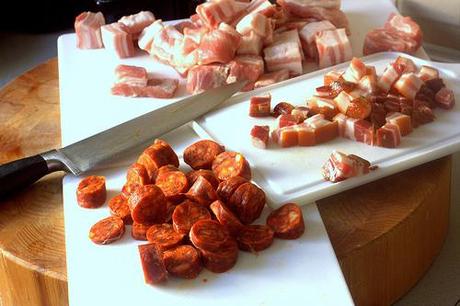 I am not sure when or why I stumbled across the recipe on the BBC Good Food's site, but I am so happy I did. We love chorizo and pork belly on their own in different ways, putting them together is perfection! I don't  have much experience with pancetta given that it's harder to find here from my own experience, but if the substitute bauchspeck is any indication of pancetta's awesomeness? I am a big big fan. 
This stew or pork convention-in-a-bowl is hearty filling and the beans adds a nice texture and believe it or not taste. You can use
 Cannellini beans
 or
haricots
(as the original recipe)I don't think I would love this as much without them! Even better it's simple, as it's delicious. Chop some aromatic/bellies/sausage and some aromatics add a good glug of wine, spices and water let it slow cook and infuse your home with lovely aroma and you're pretty much done until you add the beans at the end! This is definitely a man pleasing meal, but I could have ate the whole entire pot on my own. I love me some pork and beans.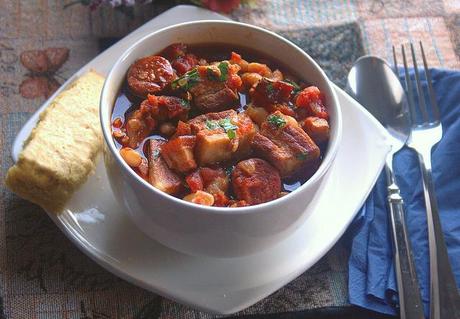 Chorizo & Pork Belly with White Beans


 Adapted  From BBC Good Food's site
Printable Recipe


Ingredients


1 1/2 lb piece of boneless pork belly , skin removed
1 T olive oil
1/4 lb pancetta or any dried cured belly meat (I used bauchspeck) thick bacon may work, too
1 large onion, chopped
4 garlic cloves, roughly chopped
1 tsp hot smoked paprika
1/2 tsp nutmegpinch red pepper flakes
1/2 lb chorizo, roughly chopped
1 -14oz can chopped tomatoes
1/2 cup red wine
2 14-oz cans of Great Northern Beans or cannellini, drained and rinsed
a bunch coriander


Directions


Heat the oven to 160C/310F. Cut the pork belly into large chunks. Heat 1 tbsp oil in a large, ovenproof casserole and fry the pork in batches over a high heat until browned all over, then remove with a slotted spoon.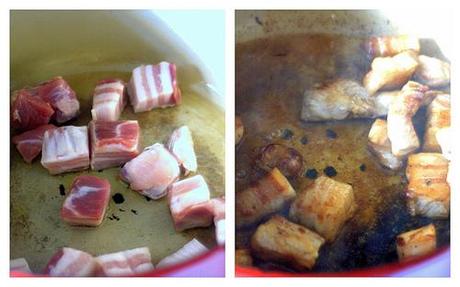 Add the pancetta and cook for 2-3 minutes until golden, then reduce the heat slightly and add the onion and garlic. Cook for 2-3 minutes until softened. Stir in the paprika and chorizo also nutmeg and chili flakes if using and cook for a minute or so. Return the pork to the pan and tip in the tomatoes. Pour in the wine and enough water just to cover - about 1 cup.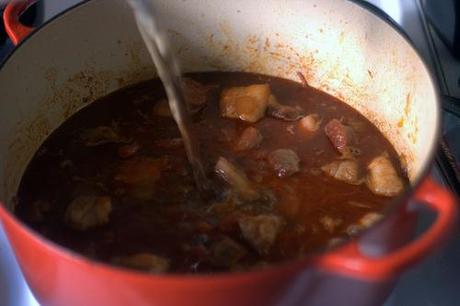 Season, cover and cook in the oven for 2 hours. Stir in the haricot beans and return to the oven, without the lid, for 20-30 minutes.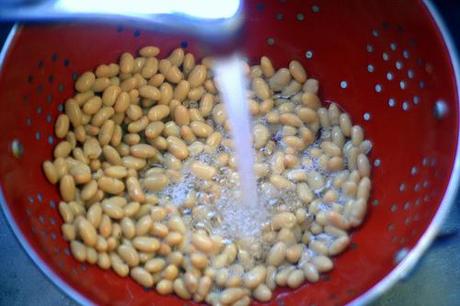 Stir in the coriander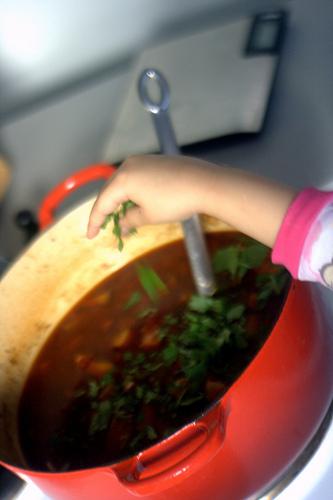 I served with a family favorite- Buttermilk Cornbread from All Recipes. I substituted 1/2 cup milk plus 1/2 cup with a teaspoon on white vinegar for buttermilk. I also used 1/2 cup unbleached all-purpose flour and 1/2 cup whole wheat flour for 1 cup of flour, then baked in 13 by 9 baking pan. Turned out delicious and went very well with stew. Serve with any bread you like, my parents would have used a slice of good ol' white bread. That's how we rolled. This stew and bread was enjoyed by my whole family.

Enjoy!!