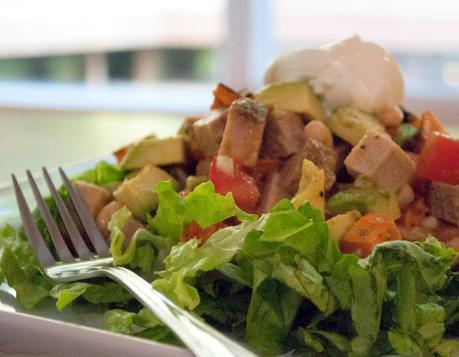 I don't know about you, but when I roast a pork loin, or bake pork chops, I always have leftover meat. Most likely I find myself in this situation because I'm always ready to cook for a crowd, and now I'm cooking for two.
But that's okay, there's no such thing as wasting food in this house. I can always put leftovers to good use.
The leftover pork from a previous meal made a flavorful protein boost for my chopped salad, along with a handful of white beans.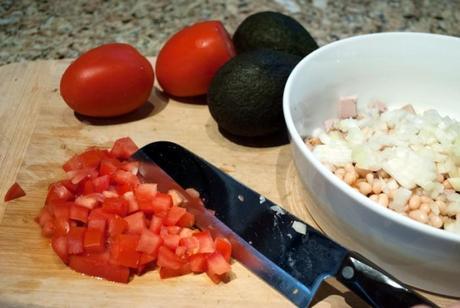 But it was the roasted potatoes that made this salad something special. Their sweet and nutty flavor worked so well with the pork and spicy Cajun dressing you see below.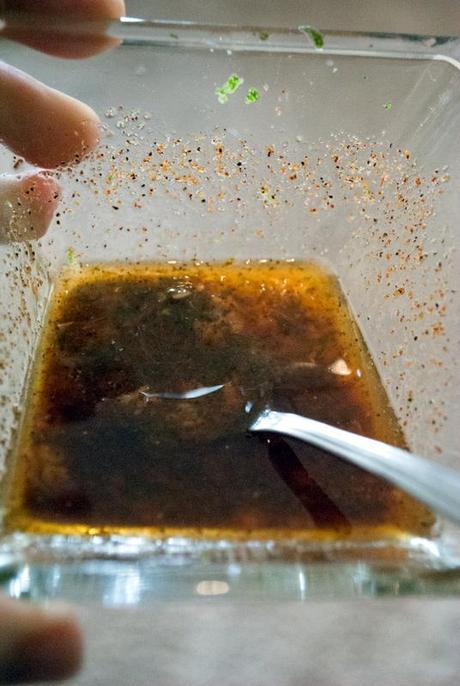 When you add cooling avocado to the bowl, the combination makes a hearty meal.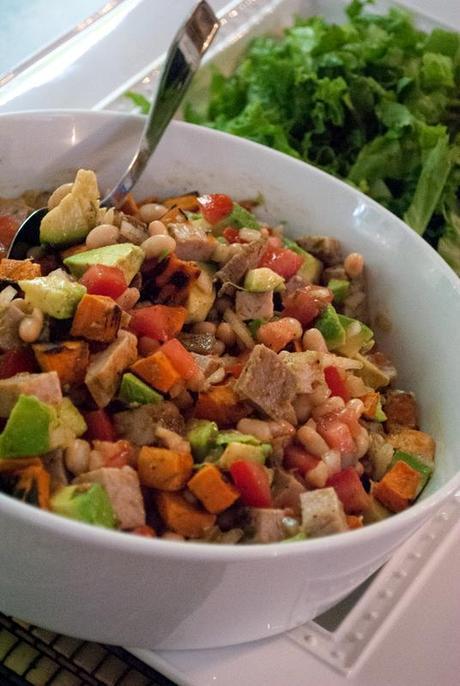 This salad recipe is a bit higher in calories than many of my salad recipes, but the combination is incredible, and this meal still comes in under 500 calories. But if you want to skinny it up, I would suggest skipping either the white beans, maybe the avocado.
My advice? Don't skip an ingredient. The combination of flavors is what makes this salad work.
I'd love to hear how you use leftovers in your salads, so be sure to leave a comment, and have a terrific weekend!
~Kristi
Print

Chopped Salad with Pork, White Beans and Avocado with Cajun Honey Lime Dressing
Serving Size: 4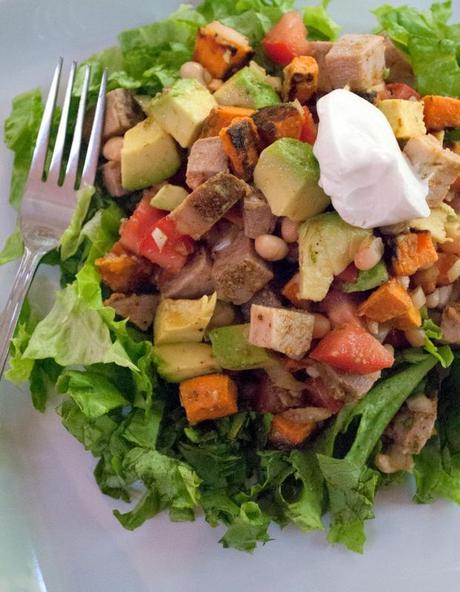 Shake It Up! You could add cheese to this salad, but it's already high enough in calories and fat, and doesn't need it. But if you insist, I would cube a mild cheddar or monterey jack.
Ingredients
2 cups pork loin roast, cooked and cubed
1 cup cannelini beans, rinsed and drained
½ cup onion, diced
1 cup tomatoes, chopped
1 large sweet potatoes, cubed
2 medium limes, zested and juiced
1 tablespoon honey
1 tablespoon olive oil
1 tablespoon Cajun seasoning blend
1 clove garlic, crushed
1 large avocado, cubed
8 cups lettuce , chopped
4 tablespoons low fat sour cream
Instructions
Preheat the oven to 450 degrees. Line a cookie sheet with foil and spray with cooking spray.
Spread sweet potatoes on the cookies sheet and spray with cooking spray. Roast for 15 - 20 minutes until just tender. Allow to cool.
Add potatoes, pork, beans, onions and tomatoes to a bowl.
In a small jar combine lime zest and juice, honey, olive oil, Cajun seasoning and garlic.
Toss dressing with pork mixture, then fold in avocado.
Serve with lettuce and sour cream.
Notes
Food energy: 475kcal Weight Watchers PointsPlus 11 Saturated fatty acids: 5.00g Monounsaturated fatty acids: 9.32g Polyunsaturated fatty acids: 1.85g Total fat: 16.17g Calories from fat: 145 Cholesterol: 113mg Carbohydrate, by difference: 36.87g Total dietary fiber: 8.84g Protein: 43.07g Total lipid (fat): 18.27g Water: 323.95g Ash: 5.51g Total sugars: 8.67g Calcium: 109mg Iron: 4.18mg Magnesium: 109mg Phosphorus: 514mg Potassium: 1328mg Sodium: 120mg
2.5http://motherrimmy.com/chopped-salad-pork-white-beans-avocado-cajun-honey-lime-dressing/Mother Rimmy�s Cooking Light Done Right by Kristin A. Rimkus is licensed under a Creative Commons Attribution-Noncommercial-No Derivative Works 3.0 United States License.