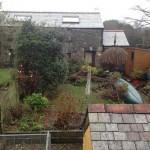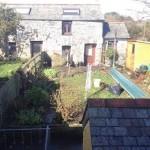 Last week the transformation of  Beehive Cottage Garden began thanks to finally being blessed with some dryer weather!It was time to get rid of the old and make room for the new.
Armed with loppers, various sized saws and with the shredder plugged in, I took to the towering mixed evergreen hedge – it was coming down. Instead of taking all the garden waste I generated to the local dump I decided to make the most of it and shred it. Anything to big was saved for kindling and fire wood.
I'm intending on removing pretty much everything from the garden in order to create a bountiful productive kitchen garden. I haven't got a big budget available for this which is why my mission is for the garden to pay for itself. Because of this it is only natural that I don't want to waste my waste .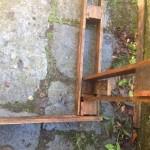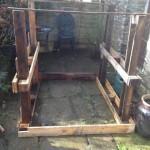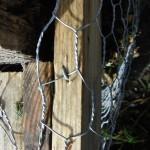 To start with I made a temporary compost bin for all the shredded material. I used some pallets I picked up from the local industrial estate,  sawing them apart and the slotting them into each other creating a basic frame. I then attached chicken-wire up to the top on three sides and half way up on the front using tacks. Now I was ready to get shredder happy. All the shredded materials will eventual rot down to lovely chippings for paths, later on mulch and even further down the line I can ad it to my compost as dry material.
I cut any branches that were to big for the shredder to a log burner friendly size and moved them to our log store. I didn't feel confident in shredding the fast rooting willow twigs so I thought it best to turn them into kindling bundles. Bundling up thin prunings of  wood for kindling works really well, I find it so much easier to stack them up than when you chuck bits in baskets as they end up in a messy tangle. Just trim them down to roughly the same size and tie together with natural fiber string.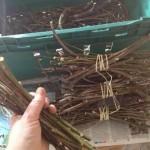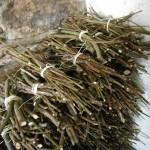 As you might already know my garden is all about being productive and needs to pay for itself. I will be working really hard to ensure we break even at the end of the year.  I'm happy to say that clearing the garden is proving to be productive. Giving us plenty of kindling and a descent amount of fire wood.
Two of the shrubs that I said goodbye to were a bay tree and a leggy rosemary. I saved allot of the leaves, dried and packet them up in order to sell them at our fortnightly market.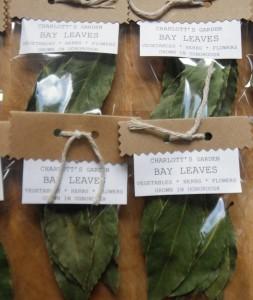 At the end of my posts you will find a breakdown of what I've spent, what has saved us money because our garden provided us with it and what money I have raised by selling garden produce at our fortnightly market.
I hope you will follow my quest for a productive garden that pays for itself.
Have you got any great money saving gardening tips?
- £153.81 spent on seeds for this season and cold-frame
£50.00 saved by extracting kindling and fire wood
Charlott's Garden Total: -103.81