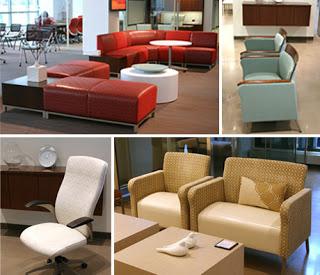 Choosing an appropriate upholstery fabric for the furniture at your office may manifest as a frustrating work. However, it is essential to select a material which is right for your office setting because it would play a significant part in determining the durability of the furniture items.
If you want to choose right upholstery fabric, here are some of the aspects which you will need to consider:
Location of the Furniture 
Durability of the upholstery fabric will greatly depend upon where the furniture is placed in the workplace. If the furniture is to be located in a low traffic area, you should pick up sensitive fabrics such as silk or linen. However, furniture in high traffic areas would require something that can withstand frequent use. Engineered and combination fabrics last longer even with regular use than the natural ones. If the furniture is to be placed somewhere that receives a lot of sunlight, you will need to select a fabric that will not fade much. 
Fabric Colour
Colour of the upholstery fabric should be in harmony with the mood you want to convey through your furniture. Vibrant colours will impart cheerfulness to any office setting, while warm shades can offer a sense of relaxation.
Pattern of the Material
You must recognize the fact that patterned fabrics can easily conceal stains than plain fabrics. But when choosing a patterned fabric, make sure that the patterns work well with the décor of your office. Woven patterns hold up pretty well than the printed ones. Size of the furniture will also matter in this case. Certain patterns look good on smaller chairs, but may not be very appealing on couches or love seats.
Fabric Grade
When choosing the fabrics for your office furniture upholstery in Sydney, you should be able to select between distinct grades. Grade simply denotes the manufacturing cost, and not necessarily durability. This depends on the fiber type, construction procedure and thread count. Some manufacturers rate their fabrics alphabetically, while others use a system of number rating. Check with your manufacturer if you are not sure about the grade of the material you are choosing.
There are some other upholstery options which may consider, if you want the material to last longer. Vinyl can be an ideal cost-effective choice, and also exhibits texture and looks similar to that of leather. Leather upholstery is congenial and classy. Mesh furniture are great in office settings and allow more ventilation than other materials.