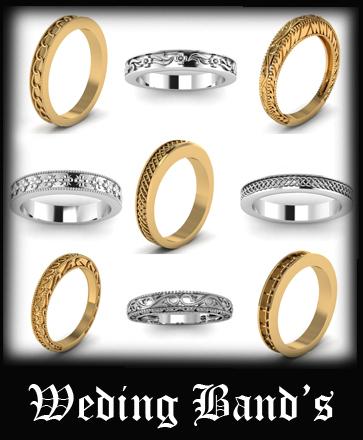 "I promise to be true to you in good times and in bad, in sickness and in health. I will love you and honor you all the days of my life."  This promise of love is sealed with the wedding bands. Your wedding ring is the one thing you will wear for the rest of your life, making it a little more special a little more perfect. Wedding bands are basically the simplest piece of jewelry. Whether you are looking for something unique or you have a more traditional pick. A little research will definitely help you pick the perfect wedding bands.
The first thing you start with is to choose the metal for the band of your choice. There are numerous metals that are available, all of them having different properties that make some of them more suitable than the others. There are a few metals that are amongst the favorite for couples now days and knowing a little more about them ought to give you a head start in deciding on the metal of your choice.
Yellow Gold:
Yellow gold has been a favorite for the traditional brides and grooms to be. The purest form of yellow gold is 24ct, but this form is too soft to wear everyday and since you don't really take off your wedding band this form is not advisable. a 22ct wedding band is also soft for daily use and hence the 18ct or 14k variety are preferred.
White Gold:
This choice of metal as a wedding band is a perfect match for a platinum wedding ring. Obtained by alloying gold with a high percentage of nickel, white gold does not lose its luster easily and has a high reflective property which is usually protected by rhodium plating used to accentuate its shine. Due to constant wear and tear, this plating may wear off but the great part about this wedding band is that the plating can be re-applied bringing back its original shine.
Platinum:
Highly durable, rare and expensive, Platinum is a shimmering grayish white precious metal which is found usually in the alluvial sands of rivers. It was not much in use in ancient times but soon its value was recognized. Eventually it was renowned as 'the only metal fit for kings'. Platinum is very strong and heavy and does not corrode and hence is very popular with modern couples. Since it does not corrode easily it is extremely suitable to stand the daily wear and tear.
Its way rarer than gold and much more expensive than gold, But one thing is for sure that a platinum wedding band will last forever.