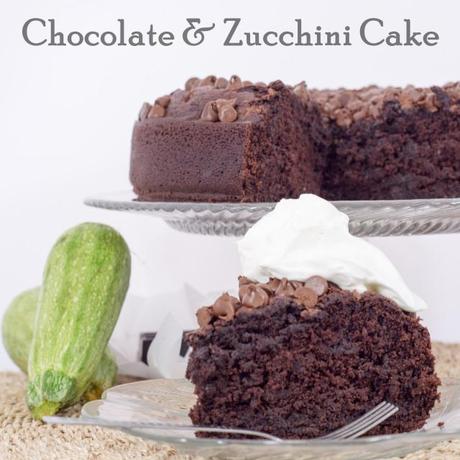 Chocolate & zucchini cake, welcome to my life.
Yes ladies and gentlemen, I've just climbed from whatever rock  I was living under for the past twenty something years and just discovered that chocolate and zucchini makes a killer combo. Chocolate and zucchini! Who'd have thought? Not me for sure.
I've heard about this cake before but I've just never got the courage to actually bake it. I was afraid I'd bake it and my picky family would refuse to eat it because it contained zucchinis. But yesterday I found some zucchini is the fridge which I am too lazy to cook and make as kousa mahshi (its basically a middle eastern food, where the zucchinis are cored and then stuffed with rice and lamb meat and then cooked in tomato sauce. it tastes great, but takes ages to make!). I'd hate to waste completely edible food, so I decided to venture and take my chances and make a chocolate zucchini cake.
Let me tell you that this is the best venture I ever made. And no you can't taste the zucchinis. You can't taste the zucchinis. You'll have to trust me on this one ok. Just trust me. Unless you blurt it out that it contains zucchini, no one will ever know. I made a little experiment by not letting my family see or know that this cake contains zucchini and guess what? They never guessed. Even when I told them, they did not believe that it contained zucchini,  I tried to convince my husband but he still thinks its one of my jokes.
Although the recipe is adapted from king Arthur flour website, unfortunately, I can't get that flour here where I live, so I modified the recipe and used the regular all purpose flour I was always use. The recipe survived and turned out fine.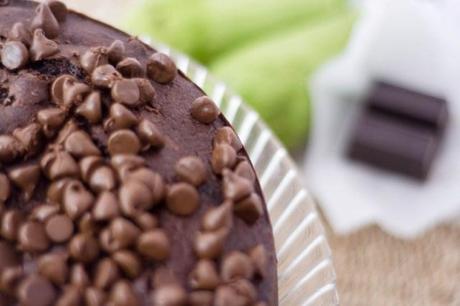 A few notes about the cake
I reduced the amount of fat in the cake by skipping the oil. I did not miss the oil, because the cake was moist due to the addition of sour cream and zucchinis. I even think next time i make it, am going to reduce the butter in half, am taking a wild guess but i think the cake would turn out fine.
I weighed my zucchinis before shredding them, they weighed almost 500 gram, then I squeezed the water out, weighed them again they weighed almost 190 gram, by volume they were about 1 & 1/2 cup. Bottom line I suggest you try to squeeze as much water out of them as you can because all that excess water can affect the moisture of the cake.
You want to know how good this cake is? its so goof that am willing to go out of my way to buy zucchinis, shred them and fold them into this cake.
Seriously. Get off your computer and go make this now.
Print Chocolate zucchini cake
Prep Time: 30 minutes
Cook Time: 50 minutes
Total Time: 1 hour, 20 minutes
Yield: 8 to 10 servings
Recipe adapted from King Arthur Flour
Ingredients
1/2 cup (113 g) butter
1 3/4 cups (347 g) sugar
1 teaspoon vanilla extract
1 teaspoon baking soda
1 teaspoon baking powder
1/2 teaspoon salt
2 large eggs
1 cup (226 g) sour cream
2 1/2 cups (298 g) all purpose flour
3/4 cup (64 g) cocoa powder
2 teaspoons instant coffee
3 cups (340 g to 510 g) shredded zucchini, check my notes above*
1/2 cup (85 g) chocolate chips
1 cup (170 g) chocolate chips
Whipped cream to garnish, optional
Steps
Preheat oven to 180C / 350F / Gas mark 4.
Grease a 9 inch cake pan with butter. Set aside.
In a large mixing bowl, beat together the butter, sugar, vanilla, baking soda, baking powder, and salt until smooth.
Beat in the eggs, one at a time.
Stir in the sour cream alternately with the flour.
Add the cocoa and instant coffee powder, mixing until smooth.
Fold in the zucchini and 1/2 cup chocolate chips. Spoon the batter into the prepared pan.
Bake the cake for 50 to 55 minutes, until the top springs back lightly when touched, and it seems set.
To ice the cake: Slide the cake out of the oven, sprinkle it evenly with the 1 cup chocolate chips, and return it to the oven for 5 minutes, or until a cake tester inserted in the center comes out clean.
Remove the cake from the oven, completely cool on a rack before removing from the springform pan.
Serve with a dollop of whipped cream.
Store in an airtight container up to six days in a cool dry place.
Schema/Recipe SEO Data Markup by ZipList Recipe Plugin2.2http://sukarah.com/2013/04/chocolate-zucchini-cake.htmlSukarah | http://sukarah.com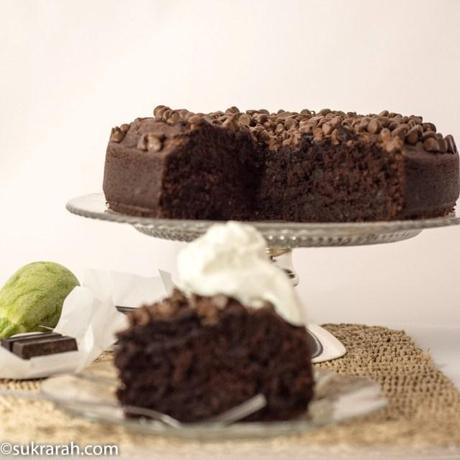 What do you think my dear reader? Is chocolate zucchini cake a yay or nay? Its a yay for me. Have you ever eaten vegetables in a cake? Do you think have vegetables in a cake makes it healthier? Share your thoughts.
If you enjoy Sukarah's posts, please like us on Facebook, follow us on Twitter, or check Sukarah's Instagram! And while you're at it pin us on Pinterset.
Don't forget that you can subscribe for Sukarah's RSS feed to receive notification whenever there is a new post.