Recipe Number One Hundred & Nineteen:  Page 47.
I still can't get over how many votes this recipe received on my Facebook Poll. I think it's very clear that we are a nation of chocoholics! Although I love chocolate much more than I should, I was a little concerned about making this Swiss roll. For those who have read my much earlier posts, you will know that I've had two previous attempts at a Swiss roll. Sadly, my first attempt was a complete failure and ended up in the bin! My second was a little better but still a feeble effort. I hoped I could beat my demons and have a successful result this time.
I took another look through the recipe before making a start; it was so nice to see such a short set of instructions! All being well, it would take mere minutes to make and I'd soon be tucking into a delicious Swiss roll. I could but hope! I broke the eggs into a mixing bowl and tipped in some sugar. I've learnt that this next part is crucial. Basically the eggs and sugar have to be whisked for a very long time! On my previous attempts I gave up far too soon. I should have whisked until the mixture was very thick and frothy. Obviously I am lacking in patience. I really don't think it can be done without an electric whisk; well not unless you have arms like Popeye (after a few cans of spinach)! When I lifted the whisk from the bowl and it left a thick trail on the surface of the mixture I knew it was ready. I measured the flour and cocoa powder into a separate bowl and then sieved them into the mousse like mixture. I carefully folded in the flour and cocoa. I wanted to avoid losing the air I had taken so long to create! It was a little tricky as the cocoa powder didn't want to be mixed in. Just when I thought it was all combined I'd find a large section of dry powder! I poured the fluffy mixture into my lined Swiss roll tin and tilted the tin to get the mixture into all the corners. I thought it best not to spread it out with a knife or spoon. It only needed to go into the hot oven for around ten minutes. This gave me just enough time to wash up, yay!
Just before the Swiss roll was due to come out of the oven, I placed a piece of baking paper on the worktop and sprinkled some caster sugar over the surface. Next was the moment I had been anxiously waiting for. I opened the oven door and peered inside. To my complete and utter joy I saw that my Swiss roll had risen, hallelujah! I quickly tipped the cake out of the tin and on top of the sugared paper. I whipped off the paper from the base of the cake and trimmed the edges of the Swiss roll. At first I thought that removing the edges was unnecessary as they appeared perfectly satisfactory. This was until my greedy brain clocked that I would get to eat the trimmings – oh yummy! With a mouth full of chocolaty cake, I scored a deep groove into one of the short edges and then rolled it up with the paper still inside. This seemed odd to me, I hadn't left the paper in with my other Swiss rolls. I had to leave it to cool whilst wrapped. I couldn't help but worry that it would fall apart when I unrolled it to fill with jam and cream. I would have been really upset as I felt so close to triumph!
Once cold, I gingerly unwrapped the Swiss roll and, thank goodness, it remained in one piece. I warmed a few tablespoons of blackcurrant jam and spread it over what would be the inside of the roll. I had to get my whisk out once more; I felt so grateful to get to wash it twice! I whisked up the double cream which thankfully only took a minute. The delicious cream got spread out over the top of the jam and I then rerolled the Swiss roll. This time it was generously filled, so I had to be even more careful. Compared to my previous attempts this Swiss roll looked gigantic! I was so pleased with it. If I could have reached I might have been tempted to give myself a pat on the back! I had finally made a decent Swiss roll!! To others this will be a really easy and basic recipe but it had been my nemesis!
I was soon cutting a slice and taking a large bite. It tasted as good as I'd hoped. It was light and chocolaty; the cream and blackcurrant filling was divine. Now I've had a taste of success I will be making Swiss rolls all the time. It just goes to show that, if at first you don't succeed, try, try again!!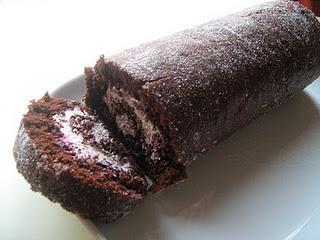 Yay - I've finally mananged to make a decent Swiss Roll!!! :-)