This Chocolate Strawberry Oatmeal tastes like dessert for breakfast! This oatmeal is sweetened with a banana and cocoa powder + chocolate chips make it super chocolatey. It's gluten-free, refined sugar free, and vegan.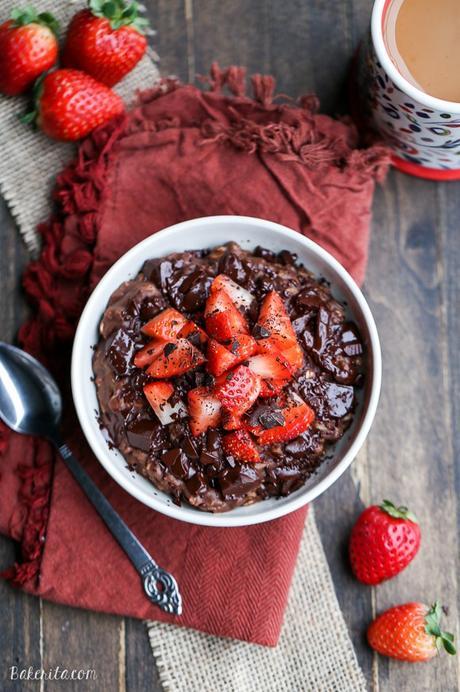 Let's talk about breakfast. Specifically, let's talk about that fact that the chocolatey bowl of deliciousness you're seeing above this sentence? Yeah, you can eat that FOR BREAKFAST. Who's in?
I made this for breakfast for the first time on Monday, again on Tuesday, photographed it (and subsequently devoured) on Wednesday, make it again on Thursday, and then was exceedingly sad on Friday when I was all out of bananas and strawberries. You can say I'm a little obsessed.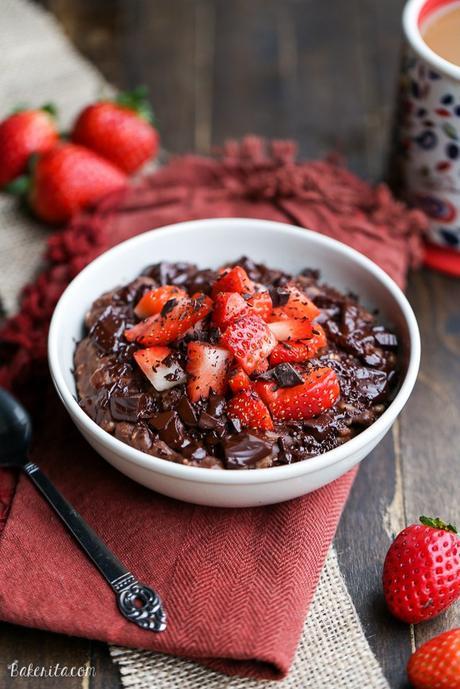 Typically, I eat yogurt, homemade granola, and berries for breakfast pretty much every single day, but occasionally I switch it up with some oatmeal. I don't like eggs for breakfast (*gasp* I know), so my options tend to be more limited and skew towards the sweeter side…shocker, right?
This recipe is a twist on my favorite dessert-for-breakfast oatmeal – chocolate peanut butter oatmeal! I always sweeten my oatmeal with a ripe banana. I can't bear the thought of putting sugar directly on my breakfast, and the banana always makes it plenty sweet. Not adding any sugar makes this oatmeal refined sugar free!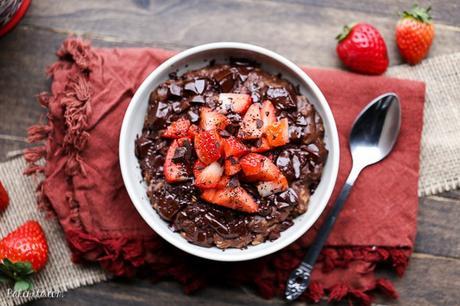 Of course, the chocolate also adds a bit of sweetness, as do the berries, but it's definitely on the healthier side. Using GF oats and dairy-free milk also makes the recipe totally gluten-free and vegan.
When I have them in the house, I sprinkle my paleo chocolate chunks over the top. If I don't have those around, I sprinkle on a couple mini chocolate chips instead. Makes breakfast taste a little more decadent :D this would still be super chocolatey and delicious even without the extra chocolate on top though – the cocoa adds all the chocolate flavor you need.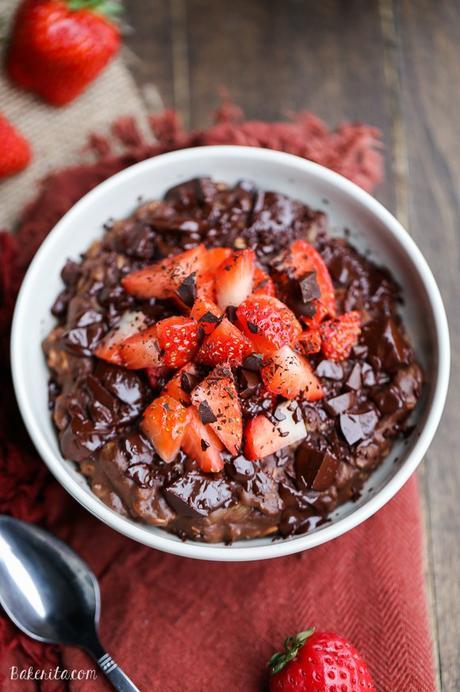 I'm all about chocolate strawberry everything right now – I think these chocolate covered strawberry chocolate chip cookies started a new obsession! The flavors taste so decadent in oatmeal form and they're so fun and festive for Valentine's Day. This would be such a romantic breakfast in bed surprise…wink wink nudge nudge. Your honey would love you for it!
Just be sure to make enough for yourself – you won't want to share! Enjoy :)
Remember to #bakerita if you try the recipe!
Chocolate Strawberry Oatmeal (GF + Vegan)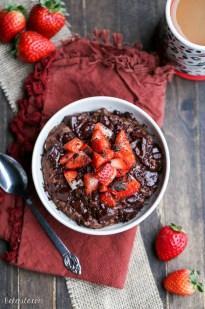 Save
Print
Author:
Rachel Conners
Ingredients
⅓ cup rolled oats (GF if needed)
1 medium banana, mashed
½ cup non-dairy milk (I used almond milk)
1 tablespoon cocoa powder
¼ cup diced strawberries
1 tablespoon mini semi-sweet chocolate chips
Directions
In a small saucepan, combine oats, banana, almond milk and cocoa powder. Simmer until milk has absorbed into the oats, about 3-5 minutes, stirring occasionally.
Place into a bowl and top with chocolate chips and strawberries. Enjoy!
Notes *To keep the recipe vegan and refined sugar free, be sure to use vegan/sugar free chocolate chips or use my paleo chocolate chunks. 3.4.3177

There's more where that came from!
Chocolate Banana Granola (GF + Vegan)
Banana Cocoa Cake with Almond Butter Swirl (Paleo)
Banana Cake with Chocolate Ganache (GF, Paleo)
Apple Oatmeal Muffins (Vegan)
Strawberry Banana Muffins
Chocolate Peanut Butter Granola