This Chocolate Strawberry Granola is healthy enough to eat for breakfast, but so delicious you'll want to have it for dessert too! This easy granola recipe is gluten-free and vegan.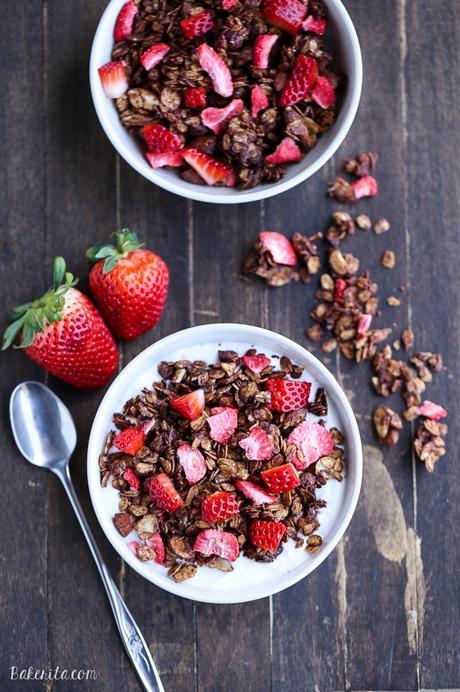 Chocolate and strawberries can always make me feel better. The richness of the chocolate paired with the fruity sweetness of strawberries…I can never get enough of it, and it's definitely one of my favorite flavor combinations.
I've been a little off my game the past few days, hence the schedule that's been skewed from my normal MWF posting. I don't want to get into it too much, because this is a food blog designed to make you hungry and not a place for me to gross you out or complain about medical problems, but I figured you deserve an explanation for my absence.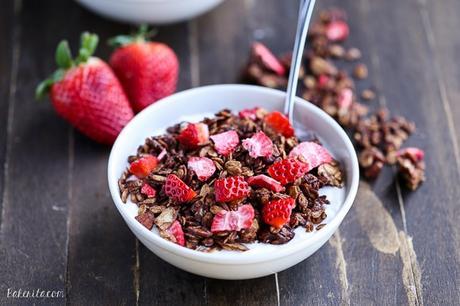 I get LASIK eye surgery this past Friday! And it's sort of incredible, because I can see right when I wake up in the morning, and dealing with contacts every day is now a thing of the past. BUT, my process didn't go as smoothly as I expected. Without getting into too many details, the suction on one of the machines didn't work quite right on my left eye the first two times they tried, and they had to restart the machine to get it to finally work.
After the doctors got the machine issue sorted out, the surgery went smoothly and just as expected, but having to repeat the suction process three times on one of my eyes really did a number on that eye and made my recovery more painful than most people's. If you're going to get LASIK, don't freak out! This is a totally uncommon thing that the nurse told me she had never seen happen in her four years of doing the procedure. And it happened to my eye twice. Lucky me!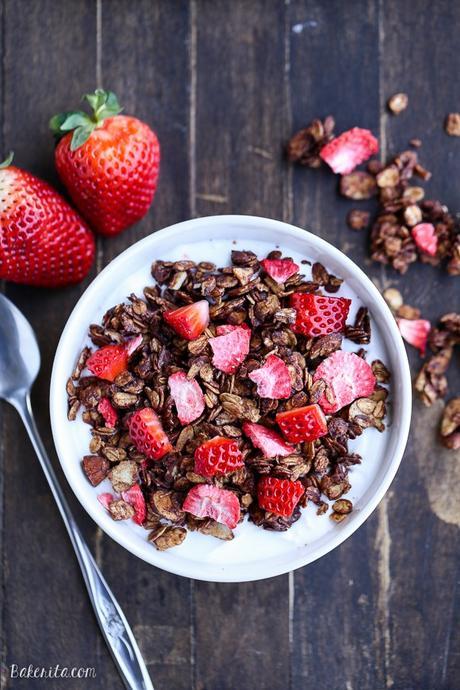 But, because of that, I haven't been baking, or on my computer really at all – but I have been snacking on this chocolate strawberry granola. I know I just posted this chai spice granola recipe not too long ago, but I couldn't hold on to this recipe and not share it with you guys!
Since these chocolate-dipped strawberry chocolate chip cookies and these chocolate covered strawberry brownies, I've been sort of obsessing over chocolate + strawberry everything. When the idea for chocolate strawberry granola came into my head, it wouldn't leave until it had been made. I've been snacking on freeze dried strawberries all the time lately, and I knew they would be the perfect addition to the granola – they have the fruity taste I want, but without the moisture from fresh strawberries.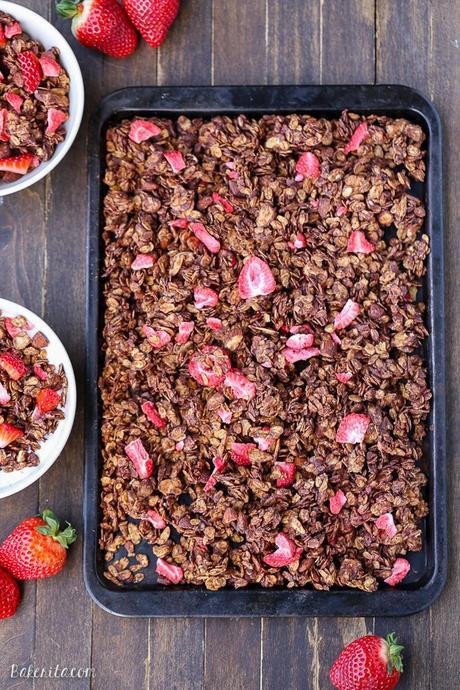 The granola, like all of my granola recipes, is simple to put together and can be in your oven in less than ten minutes. The chocolate comes from two places: there's cocoa powder mixed into the wet ingredients, and when the granola is baked and still warm, dark chocolate chips get stirred in to coat the granola. When the granola cools, you'll have a big, gorgeous chunks of chocolatey granola with bursts of strawberry flavor!
This chocolate strawberry granola is both gluten-free and vegan. I love eating it on top of some yogurt with fresh berries for breakfast, but it's also a perfect snack just on it's own. You may even find yourself having a handful as a guilt-free dessert treat. Enjoy!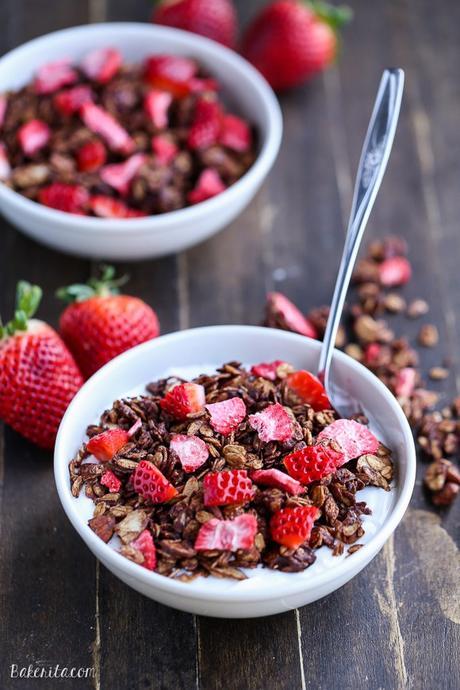 Remember to #bakerita if you try the recipe!
Chocolate Strawberry Granola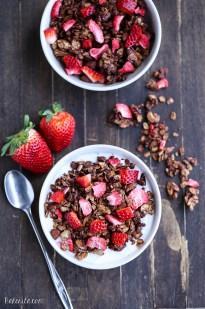 Save
Print
Prep time 10 mins Cook time 40 mins Total time 50 mins   Author:
Rachel Conners
Serves:
6 cups
Ingredients
4 cups gluten-free rolled oats
1 cup sliced almonds
3 tablespoons coconut oil, melted
½ cup maple syrup
1 teaspoon vanilla extract
3 tablespoons cocoa powder
½ teaspoon kosher salt
½ cup dark chocolate chips*
1 cup freeze dried strawberries
Directions
Preheat the oven to 300ºF. Line a baking sheet with parchment paper.
In a large bowl, combine the rolled oats and sliced almonds. In a measuring cup, whisk together the coconut oil, maple syrup, vanilla extract, cocoa powder, and kosher salt. Pour over the granola mixture and stir until all of the dry ingredients are coated. Spread the granola in an even layer on a parchment-lined baking sheet and press down with a spatula or your hands.
Bake for 30 to 40 minutes, rotating the pan halfway through to help the granola bake evenly. When it is browned and feels dry to the touch, remove from the oven and sprinkle with chocolate chips. Let sit for about 2 minutes until chocolate chips have melted, and stir in the chocolate chips to coat the granola (your hands are the best tool to get all the granola covered). Add in the freeze dried strawberries and stir to combine. Let the granola cool completely.
Store at room temperature in an airtight container.
Notes Make sure to use dairy-free chocolate chips to keep this recipe vegan. 3.5.3208

There's more where that came from!
Chocolate Banana Granola (GF + Vegan)
Chai Spice Granola
Coconut Macadamia Nut Granola (GF, Vegan + Refined SF)
Chocolate Strawberry Oatmeal (GF + Vegan)
Chocolate Coconut Paleo Granola (GF + Vegan)
Almond Coconut Butter Granola